Kellie Pickler: Small Town Girl - The Album Review You Had to Know I'd Do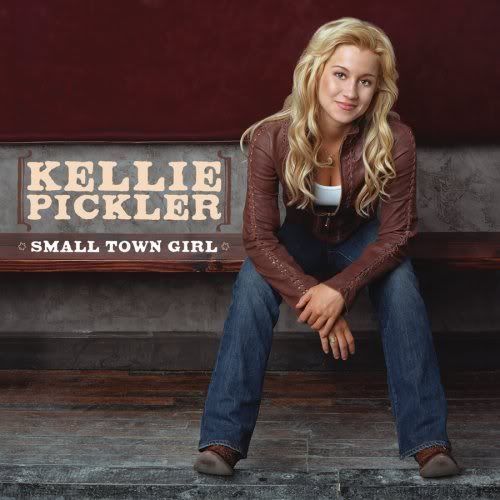 If you've kept up with this site for the past year, you'll know that Kellie Pickler and I have sort of a history. It was a bad start. I was at the forefront of the Kellie-haters, calling her Icky Picky and screaming "Kick Pickler" to the top of my lungs.
And then she did it. I don't know quite how, but she used her little vixen magic. Despite all my harsh words, I finally picked Pickler. My public apology to her and her subsequent response are all a
matter of record
now.
However, I've reserved the last measure of judgment for the release of her new album. No matter how much I like Kellie personally, she is still going to have to prove something with her album. She is going to have to be good.
She's not good.
She's
GREAT
.
I've been enjoying her recent single "Red High Heels" quite a bit recently. It has been featured prominently on my weekly show on
Idol Waves Radio
and has been quite popular. (If you want to catch her single on the show, it airs at 3 a.m., 10:30 a.m., 2:30 p.m. and 7:30 p.m. Central Standard Time each Tuesday. Her song was up to number 8 on the countdown this past week.) It's catchy, sassy, and just an overall good song. But could the rest of her album be any good?
You better believe it. She's a power-packed little ball of energy, our Kellie. No wonder then that 19 Entertainment chose to break with tradition this year and release her CD before the winner's CD release. (Typically, non-winners are contractually bound to hold off on releasing an album until the first and second place winners are on the market.) Kellie's is the first official 19 release this year. (
Ayla Brown
is the first actual release, but she's not in the 19 stable.)
For this review, I used the tried-and-true car stereo test. I had to keep driving a while, because once I got started there was no way I was leaving the car till the CD was over.
It would be easy to imagine Kellie coming out and doing a sort of Clay Aiken-esque disc, with watered-down country ballads and generic cover songs, but
Small Town Girl
is full of energy, and Kellie herself comes at you like a spitfire, railing on the irresponsible men in her life, celebrating her countryfied persona, and basically getting you on the dance floor for a good old fashioned hootenanny. For a girl who doesn't know the meaning of the word "ballsy," she most certainly is.
For me, the biggest moments on the whole album come smack dab in the middle, on the track "I Wonder." Kellie's tear-jerking ode to her absentee mother is quite a punch in the gut that left me wiping an un-masculine bit of moisture out of my eye. You can hear the hurt in her voice, and she perhaps has never put more heart and soul into any performance than she does in this song. If this isn't released as a single, then someone needs to be fired.
Even though this is the most powerful track on the album, the rest are no slouch jobs either. She ranges from being almost snarky on "Things That Never Cross a Man's Mind," to bleeding out some heartbreak on "Didn't You Know," to breathing nostalgia on "Small Town Girl," to having fun on "One of The Guys," and then back to being sentimental on "My Angel," a tribute to her grandmother. And I still love "Red High Heels."
In fact, I just love me some Kellie Pickler.
"But J.D., what about that nasal voice you kept harping on during
Idol
??" you ask. Well, to be honest, it's still there, but not as much, because she's obviously been doing work on her vocals. But I think a lot of what makes her voice sound thin is the fact that she's a fairly high soprano voice anyway. The truth is that once you listen to the album, you'll realize that even though she does go into head voice sometimes, she always has complete vocal control. (And honestly, whatever else is left is easily handled by the back-up singers.) Still, in her proper element, any shortcomings she might have just melt away. And she's loads better than she ever was on any of the
Idol
shows.
Long story short, go get this album. You can pick it up for the low low cost of $9.99 at Best Buy for a limited time, or you can click
here
to order it from Amazon. It's well worth owning.