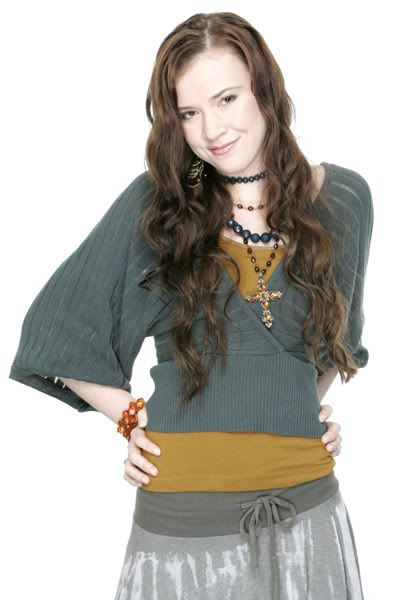 AMERICAN IDOL'S ANGEL: STEVIE SCOTT SPEAKS TO MUSICAL RAMBLINGS
There are a lot of
American Idol
blogs out there, y'all. Many of them just write their thoughts on the shows, reprint other articles about the contestants, post wildly inaccurate song spoiler lists, or just generally fill space. This blog, however, is determined to get down to the nitty gritty of the show as well as getting to know the contestants who make it great for us. And that means talking to the contestants themselves.
As soon as I saw the first few Top 24 shows, I was itching to get together with
Stevie Scott
and have a nice chat. Something about her was just enchanting and sweet, and she quite obviously had a voice that was out of this world. Finally I have caught up to the lovely Miss Scott, and as it turns out she's quite charming and gracious. She sat down with me to answer a few questions:
J.D.
: Did you have any formal vocal training prior to Idol?
Stevie
: Yes, I have been classically trained for seven years.
J.D.
: Other than your obvious talent, what motivated you to try out for Idol?
Stevie
: Trying out for Idol was more of a random impulse. People have always told me that I should try out for
American Idol
, but it started becoming a joke, because people would say it all the time. I almost didn't go just because it seemed too cliche, and then a family friend talked me into. Boy, was I glad I listened to him!
J.D.
: Do you have any really special Idol memories that you can share with us?
Stevie
: I had so much fun in AI. I think meal times were the best because everyone was so relaxed and easy going. Dinner was very fun when we were all together. We would all share food and dessert. Kellie and I would lay in her room and eat Hersheys bars and watch TV and laugh about stuff. It was a lot of fun.
J.D.
: We didn't get to see very much of you initially, and it seems that the first time we really saw you was in the group round, and you weren't portrayed very favorably, whereas contestants like your buddy Kellie Pickler have been featured prominently. Do you think that you were put at a disadvantage because of this?
Stevie
: It was hard not being introduced and featured as much as the other contestants, but its just the way the show goes. I'm sure it affects the votes in one way or another, but I'm not one to cry over the past. You have to focus on the positive and look ahead.
J.D.
: Is Ryan Seacrest really that short or are you just really that tall?
Stevie
: Hmmm...probably a combo of the two. I'm 5'11'' and Ryan is kinda short. No offense, Ryan. I still love you. (smiles)
J.D.
: Did you become friends with any of the Top 12 contestants? Any embarrassing or interesting stories you want to tell?
Stevie
: I definitely miss everyone from the Top 24. Even though I was closer to some than others, I still miss each of them and their unique qualities that they brought to the show. Life is a little less colorful without them. Melissa and I were roommates, which was fun. We pulled a little prank on David Radford. (giggles for a moment) He's so cute.
J.D.
: What kind of things go on behind the scenes there at Idol that we might be surprised to know about?
Stevie
: Behind the scenes, everyone is just a normal person trying to make it in the entertainment world. We all laugh, cry, get cranky, get crazy...you know?
J.D.
: I've heard that you weren't feeling well during a lot of your Idol run. What was going on there?
Stevie
: I was very sick when we filmed the first Top 24 show. I had the flu two weeks before, and it slowly progressed into a cold and sinus infection. I was so nervous to have to perform in front of millions of people while I was sick. It took all the fun out of it, you know? I wanted to be able to get up there and enjoy myself, but its hard when you aren't completely healthy. I gave all that I had to give, and I can live with that. The show must go on. Professionals cannot give excuses as to why they may not be "on" that night; you've just gotta give your best at that time. (smiles)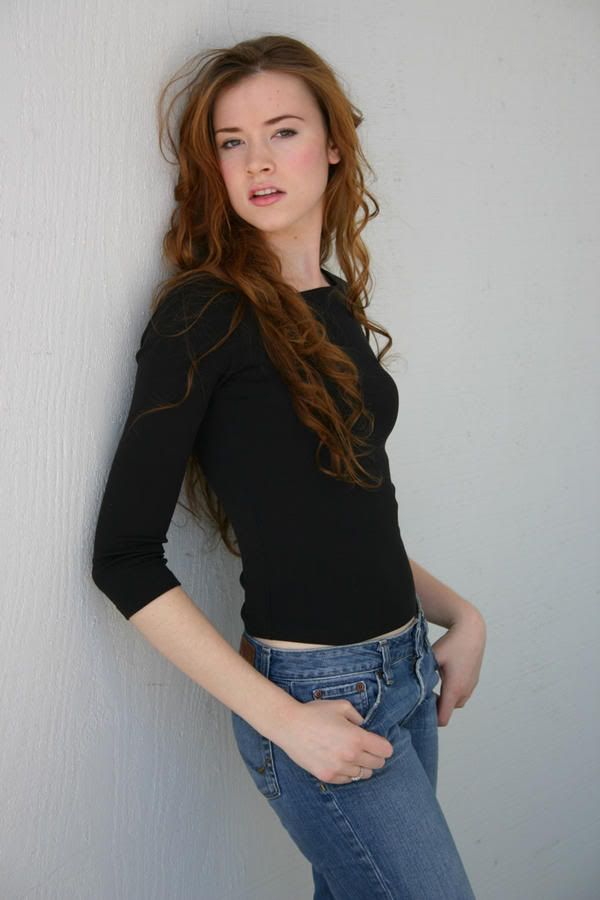 J.D.
: How was it for you when you found out that you were going home?
Stevie
: Sad, but I was expecting it to a certain degree. I had been preparing myself that day. I knew that even if I had to go home, I would not give up.
American Idol
was a great stepping stone, but it was not the last.
J.D.
: Some people say that religion and being a recording artist don't mix, but you, Mandisa, Chris, and a few others seem to be making it work. How do you incorporate your faith into your music career?
Stevie
: For me, my faith is a huge part of my life. I think it's very important that, throughout your career whether you become wildly famous or not, you stay true to yourself and your beliefs. I will do that. It's part of an agreement with myself. If my career ever gets in the way of that, I will stop until I can get things back together and be sure that I am strong enough to handle the pressure.
J.D.
: Who do you vote for when you watch Idol?
Stevie
: I can't say! I vote via my brothers. (chuckles)
J.D.
: Do you wake up in the morning looking this cute, or does it take some effort?
Stevie
: Aww, thanks! I guess it depends on that morning. Whether I like how I look or not, I figure I better get used to it cuz I'm stuck with this for the rest of my life. (laughs)
J.D.
: So now that Idol's over, what will we see you doing in the near future?
Stevie
: I'm currently working on writing more music for an album. I would like to release two albums in the next two to three years. One very mainstream (pop/soul) and the other more opera and ballads. I'm also moving to L.A. to get into more TV and film. Yay! I think it'll be fun!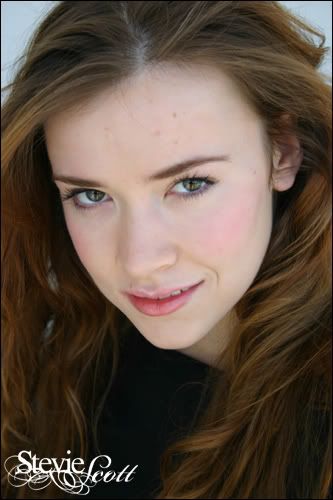 J.D.
: Have you had any offers that you can tell us about?
Stevie
: A few different recording labels have contacted me. We'll see how that goes.
J.D.
: Did you record anything prior to Idol that we can get our grubby little hands on and pay you lots of money for?
Stevie
: (laughs) Yeah, there is some older stuff from when I was 15. It's on iTunes but it's under my full name "Stephanie" not Stevie. I'm not really sure how it got on there...
J.D.
: Who would you say are your biggest musical influences?
Stevie
: Jewel, Joss Stone, Josh Groban, and Eisley
J.D.
: If someone wanted to book you for a performance, how would they need to go about doing it?
Stevie
: For performances, it's best to contact me on myspace and from there I, or my manager (a.k.a. Daddy) will handle things.
J.D.
: As for your personal life, is there anybody special you're seeing? Because if not, you should never rule out aspiring journalists. I'm just sayin'...
Stevie
: (giggles)....no one right now...
J.D.
: When you look back on your experiences, thus far, what is the one thing you will remember the most?
Stevie
: It's too hard to pick just one. At
American Idol
we became one big family. It was really sweet.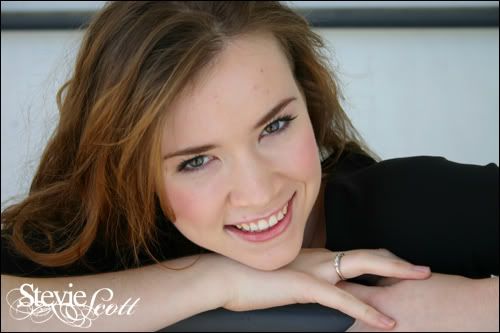 J.D.
: Tell the truth: Who's the better reporter, me or Jaded Journalist? You can lie if you need to.
Stevie
: YOU are much better! The Jaded Journalist is weird. I was so confused by him. He didn't even ask any questions. You can watch the interview with Ayla and me. It's totally random.
J.D.
: If you could impart one final word of wisdom to the world, what would you tell us?
Stevie
: Never give up on your dreams. Make every day count. Make sure that the people you love know it. Follow your heart.
And there you have it, folks, Miss Stevie Scott. You can check her out on her official website at
www.steviescott.com
or on Myspace at
www.myspace.com/stevie_idol
.
Thanks so much, Stevie, and we'll be following your career!