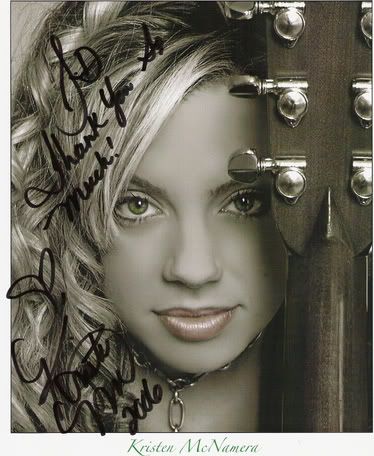 INTRODUCING: KRISTEN McNAMARA
Kristen McNamara, a contestant on the latest season of
Nashville Star
, is definitely a memorable person to meet. The first thing you notice about the 20 year old California native is her infectious smile. She's a short one, but it's easy to tell that there is a lot of energy packed into that small package. What you might not realize is that there's a huge voice waiting inside of her to jump out and tickle your ears.
Kristen trained herself to sing early on. From a young age, Kristen practiced on Patsy Cline tapes. Back then, she didn't know how recording studios worked, so believing that she would only get one chance in a recording environment, she disciplined herself to nail the songs perfectly the first time. It would prove to be invaluable education. And she has the gift many singers would sell their souls for: a four octave range and perfect pitch.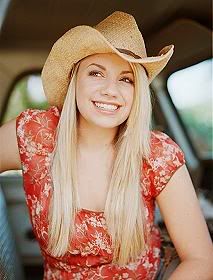 Kristen's also got a bit of a comic side. She's a fun girl, and she doesn't mind laughing with you. You can check out a few
video blogs
that she recorded for
Nashville Star
if you want to see her delightfully humorous side. The blogs detail her favorite squirrel-skin, a very non-Kellie-Pickler moment conversing with a lobster, Spanish dancing, pictures of her when she wasn't a hottie, the redneck bathtub skit, and her exit interview after finishing in sixth place. I enjoyed listening to her, and guys, even if you're not interested in anything she has to say, it's worth it to just to look at her gorgeous face for about 15 minutes.
Kristen's also super nice. And honest. I met her at the Reality TV Convention, if you haven't already guessed, and we talked for a while (not an interview, just two people talking about stuff in general.) I ended up buying some of her merch, and I handed her a fist full of bills that I thought were all ones. After moving along and visiting a few other tables, I felt a very small hand on my back. I turned around, and there was Kristen. Trust me, y'all, when you turn around and see that face, it's ALWAYS nice. She was holding a fiver up to me (literally holding up, since she's quite short) and said "you gave me too much money" in this cute little voice (which is one reason her singing voice is so surprising.) She could've kept it, and I'd never have known the difference, but that's just not how she works. I thanked her, and she smiled while
Average Joe
's Dennis Luciani snapped a picture of us.
On to her music: Check her
Nashville Star Profile
to see a video clip of her performance of her original song "Blow Away" on the show. If you visit her
Myspace
, you'll be treated to samples from three songs. The first is "Blow Away," and by now you already know what it's like, and you know I like it. Kristin's voice flows over the strings like honey. This was the first song of hers that I heard, and it set the tone for what was to come. I had to hear more. "Hey Cowboy" picks things up a bit and shows a bit of Kristin's fun side. For the life of me, I can't understand how this song isn't getting played everyday on country radio yet. "Hold On To Your Heart" is Kristen at her cross-over best. If any song will convince you to order her CD, this is the one. Unless you're completely against country altogether, this song will move you.
So now that you want to check Kristen out (and I know you do) please visit her website at
www.kristenmcnamara.com
. You'll be treated to more samples of her music, pictures, and a great bio entailing the world-famous producers and artists, too numerous to list here, that Kristen has worked with. She promises that her new CD "Restless" will be available to order via the website soon.