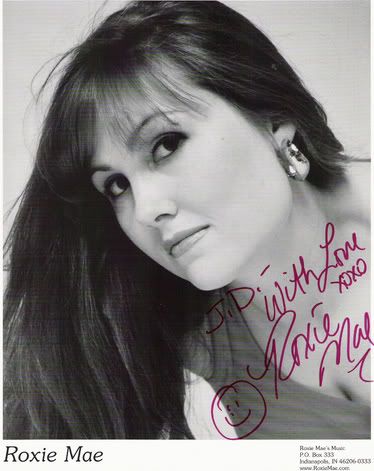 INTRODUCING: ROXIE MAE
Every so often, I am blessed with the opportunity to meet and talk with promising young musicians. Last year, I had the good fortune to run across a bright and sweet young artist by the name of Roxie Mae as we were both surfing the forums at Candace Cameron's website. I hadn't really expected to speak to anybody of note (except maybe Candace) but as it turned out, I got to make a really good friend and be introduced to some really good music. And she's not just a talented singer, but also someone who is genuinely making a go of it as an artist and who has achieved some level of success in other countries!
(Side note: It was at Candace's forum that Roxie and I began educating
Hannah
about the
music of the 1980's
.)
Roxie Mae is truly one of the sweetest people you'll ever come across. She's very humble about what she does, even though she doesn't have to be. She has a great voice, and that much is obvious, but she still cares about each and every one of her fans.
After many conversations and hours upon hours of just enjoying being around her (as well as several marathon IM sessions) I decided it was time for the rest of you to get to know her. So, once we finally got our schedules to mesh for more than just a few minutes, I sat down with Roxie to give her the royal
Musical Ramblings
interview treatment. Here goes!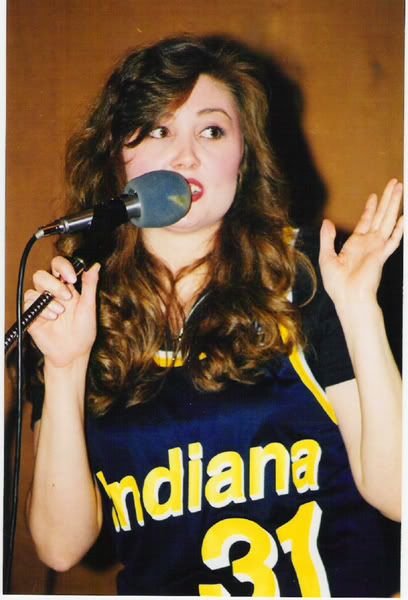 J.D.
: When did you first realize that music was what you wanted your life to be about?
Roxie
: I was 5 years old and in my kindergarten class. We had this concert to do, and I got my first solo. After I did that and felt the rush of being in front of people singing, that was when I knew this is what I wanted to do. I've always been singing, even as a toddler.
J.D.
: Did you have any sort of training when you were growing up?
Roxie
: Actually, no. My family has always been involved with music, and we would just sing. I think I just developed my vocals from practicing all the time. I am constantly singing. In high school, however, I had a music teacher who really taught me how to breathe correctly when singing, but that was it as far as training.
J.D.
: What has been your biggest obstacle while trying to establish yourself as a musician?
Roxie
: Stereotypes! The music industry has this idea that unless you're 16 and built like a brick house, you don't stand a chance in this business. I'm not saying that people who are 16 shouldn't get deals, but people in their 40's shouldn't be discriminated against either. I think music is universal and ageless. I listen to everybody from Willie Nelson to today's teen idols. It does not matter the age or the look. It's the music that counts, at least in my opinion.
J.D.
: Sometimes musical trends in this country go from the "beautiful singers" to the musically talented, as we saw in the early 90's with the movement from glam to grunge. In the end, do you feel like talent wins out? Not, that you're not beautiful, of course…
Roxie
: I really do. I've always been taught that if you do your best, then it reaps its rewards in the end. By the way, thank you! (smiles)
J.D.
: No problem! Do you have any really cute groupies other than me?
Roxie
: (laughs) Well, not as cute as you, but there's this guy that writes me fan mail often and sends me little cards. Does that count?
J.D.
: Sure!
Roxie
: I love receiving letters from people telling me that they are touched by a song I wrote or telling me that I inspire them. Who wouldn't? I keep all things in check though. I'm not going crazy out there.
J.D.
: So you've had some success overseas. Can you tell me about that?
Roxie
: About 11 years ago, I began working with an artist that had a hit years ago, and he's pretty successful overseas. A few years ago, I was introduced to a DJ that was a fan of his, and now that same DJ supports me. He's put out the word about me and in some places it has taken off. To me, that's more rewarding, mainly because I don't have a major label placing me in front of people and making them learn about me. Instead these people come to me on their own, and that has been a true blessing.
J.D.
: What countries have you had the most success with?
Roxie
: The Netherlands, Japan, England, India, and Germany to name a few.
J.D.
: Have you gotten onto any of the charts there?
Roxie
: You know I'm not really sure...I'm so busy promoting and doing so many things that I really don't concentrate on that. My fans tell me things and that's really what counts to me. Does that sound crazy? I just don't put much emphasis on that at this time.
J.D.
: I was just listening to
Shades of Blue
, your first album (available for order at
www.roxiemae.com
. I was totally mellowing out to the title track! What are your feelings about your first album? Anything you're particularly proud of? Anything you'd change?
Roxie
: Wow! What great questions you have! Thank you! "Shades of Blue," the song, was a thrill to record, and the reason is that it has a funny story around it. As a first effort, I'm proud of the album as a whole. There are songs on there that are closer to me than others and will always stand out to me. Having said that, there are some things I would change, and hopefully I will do that with my second album, but I'm just more critical on myself than anybody else, I think.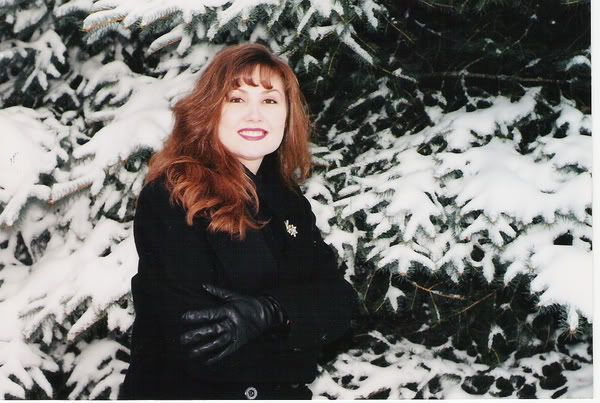 J.D.
: I wanna hear the funny story!
Roxie
: My cousin and I were driving around one night, and it was pretty late, like after midnight. I was listening to her talk about this guy she was dating and all the things that were going wrong, and she finished her sentence with "tonight I could write the saddest line," and I was like "stop the car! That's a song!" I wrote part of the song there in the middle of a street in downtown Indy! (laughs) We always joke about that night when we hear that song. She felt better having helped me come up with the title track!!
J.D.
: So, as an artist trying to break into the American music scene, how do you try to reach out to people who maybe haven't heard of you or your music (other than talking to obnoxious writers like me!)
Roxie
: (laughs) Are you obnoxious??? I didn't notice that! (obvious sarcasm) Just kidding!! Well, right now I've hooked up with some companies on the digital download angle. This way people who have no idea who I am are being directed to my website just by listening to a song of mine that was randomly selected for them to hear. I've gotten involved with Verizon Wireless phones, which people can read about on my
website
as well as
CD Baby
, which is heaven sent for artists like me.
CD Baby
isn't just for indie artists, so it really gets your music out through connections with big names and servicing fans that are interested in common names and not so common.
J.D.
: So people can maybe look up a famous artist, click on them, and find other lesser known artists who might sound similar to their favorites?
Roxie
: Yes, and that has really helped a ton of indie artists.
J.D.
: So, if we were to search
CD Baby
, what artists do you think you most sound like?
Roxie
: I'm not one to actually say, but they kind of place you where you're most fitting with voice and style of music. I was placed under the Rock/Pop/Country area, and the artists were Marie Osmond, Shania Twain, and Madonna. Could I argue with that kind of promotion?? Ha ha, I think not!
J.D.
: Sounds like good company to me! It's been said that in this day and age of Myspace and digital media sharing that it's easier than ever to get your name in front of music fans. Do you think that's true at all, at least in your experience?
Roxie
: I think it can be, but you still have to do the work. If you're not out promoting yourself and doing things to get yourself out there, you can get lost in cyberspace. It's real easy to get caught up in the fact that everything is at our fingertips, but you have to learn how to get yourself to the right people or they'll never hear you.
J.D.
: Yes. And I think that's true even for bloggers. I wouldn't have been able to publish in front of this many people even fifteen years ago, but it still does take a lot of work, and you have to reach out and put your work in front of the right people and communities. But hey, would you rather do it this way or play a lot of random seedy bars?
Roxie
: Oh no competition there! I do enjoy performing for people, but it's just not like it used to be, and it's just not my style. (winks)
J.D.
: I know that you've tried to form sort of a community with your website. What have you done to sort of foster that and make your fans feel at home with Roxie Mae?
Roxie
: Oh, a lot of things. There's a members only section, which anyone can join for free, and it gives people a chance to talk with me personally, as well as other members. We've also created a Bible study. As a Christian that writes and sings popular tunes, I think it's important to share my experiences and personal thoughts on Christianity, especially in these times. And I feel it gives people a chance to read and learn without pressure and in private if that's what they choose. I also try to make the site very personable, because that's what I like. I'm not one of those people who feel they are above anyone. The people who visit my site are there for a reason, and they're my guest, so to speak. I have to give that Hoosier hospitality! (giggles)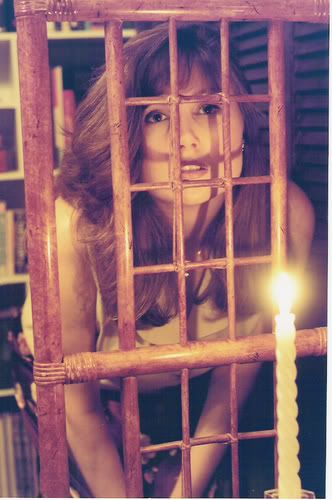 J.D.
: You mention your faith, but your music is by and large non-religious. Do you incorporate religion or faith at all into your musical themes?
Roxie
: I feel that God has given me the gift of writing and singing, so using that to help others through everyday situations is my way of incorporating faith into my music. I'm glad you brought this up. I've had so many people tell me that because I don't sing the typical "Christian" songs that I can't promote my religious beliefs, and I think that is wrong. We all have different talents God has given us, and if we all were to use the same gift, what a boring world it would be, and how fake is that??
J.D.
: So, what can we expect from your upcoming album?
Roxie
: I'm still in the studio, but It will have more rock-type songs, more upbeat songs. I still have my ballads, and I've recently met with two pianists who are lending me their talents. So there will be different people and a little more time to create, which allows us to explore our creative sides. This next album will be mostly all my songs and not as many collaborations.
J.D.
: When will it be available?
Roxie
: I'm hoping by the end of the year, but most likely the beginning of the year. It's really hard to say. Soon, though. Keep checking the website!!
J.D.
: Take us through a day of your life recording an album...what's it like?
Roxie
: Work, but fun! On a typical day, I meet with whoever I'm recording with that day, and we work throughout the day until evening. We go over ideas, record "dummy" tracks, play around with the ideas against the basic tracks and eventually come up with a song. Then I usually take a CD copy of it home and listen to it over and over until I'm satisfied with the sound. It's a long process, but it's worth it in the end.
J.D.
: Have you reconsidered trying out for American Idol this year? Cuz if you do, you should come to Memphis, since I owe you a date and all. (Roxie sent me some great autographed pictures and CDs.)
Roxie
: (giggles) Awww... how sweet! I'm not sure. I think it would be interesting, and hey, I'd like to meet Simon. There's a man who knows a ton of information about the biz! You'll be the first to know, if I do!
J.D.
: Plus you could let me follow you through the audition and get the big scoop on all that stuff. I'd be in geek heaven.
Roxie
: That would be beneficial. (laughs) You're so sweet!
J.D.
: Have I left anything out that you'd like to tell anybody out there?
Roxie
: I think that's all, for now, but I do want to take a minute and thank all of those people who support me and my music!! God Bless!
J.D.
: And of course a smooch on the cheek for your lovely interviewer!
Roxie
: Of course! Smooooch!
Thanks a lot, Roxie! (And I'm holding you to sending me a preview copy of that new CD!)
Again, if you want to find out more about Roxie Mae, you can visit her website at
www.roxiemae.com
. While you're there, read around and sample her music. Joining the site is free and worth it to get involved with a singer who is one of the most interactive with her fans that I've ever seen! You can also add her on
Myspace
, where her profile is under construction. Her first release,
Shades of Blue
, is available at her website or through
CD Baby
.