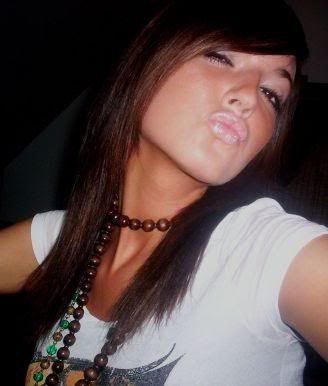 TALKING TO YOUR FANS: HOW IT SHOULD BE DONE:
I didn't really know what kind of can of worms I would be opening with yesterday's
Todd Agnew
story. Most of you regular
Ramblers
got what I was saying, but a lot of Agnew's Apologists totally missed the point. (And there's nothing like getting cussed out by Christians in emails.)
The point I was TRYING to make, though apparently I was speaking in Greek, was not that Todd had to respond to all of his emails (or even any of them.) I was more or less trying to point out the WAY in which he put that notion across to his fans. My contention was that if he were going to say it like that, he'd likely as not alienate certain fans, and he'd have been better off saying something else (specifically, nothing at all.) This blog tries to do many things, and one of those is to help artists get their messages out to the fans. The intention is never to put down your favorite artist (unless that's Britney Spears or Kevin Federline.) And it's certainly not to bash Christian Contemporary music. I do manage to stir a ruckus every once in a while (like, oh, I don't know, getting Carrie Underwood mad at Jessica Sierra, which, thank God, they talked over on the phone and got it all settled and over) but it's never my intent to start a fight.
So, in that spirit, I thought I would do some research to balance out my point. I spent a couple of hours poring over Myspace pages to see how other artists handled this exact same situation. After much sluggishness and not a small finger cramp, I found more than a few of them that had similar issues. Some of the artists that I'll mention are a bit less famous than Mr. Agnew, and some are quite a bit more famous. There are several American Idols quoted in here, because trust me, they get slammed with fan mail all the time. Plus I'm acquainted with more of them than a lot of other celebrity groups. I also included a couple non-musical celebrities, actors and actresses, just to get a fair view.
What I found was that there were quite a few celebs that still try to answer at least some of their mail. And those who couldn't were a lot more tactful in explaining why (rather than just flat-out refusing to respond at all.) Many of these artists have comparable time constraints as Mr. Agnew would have, and most have comparable friend levels or volume of mail. I tried to make the playing field as level as possible. I included some lesser-known bands, because I've found that they're much better at marketing themselves, and they tend not to take their fans for granted.
Here are their responses to the same issue. I believe that each of them handled it much better than Todd Agnew, and I hope that he (and other artists and management reading this) will learn from these good examples.
Madison
(band): WE WANT TO MEET EVERYBODY! ADD US, COMMENT US,
MESSAGE US
. We hope to meet all of you one day.
Line of Fire
(band): Our Friends List keeps growing, so
please forgive us if it takes us a while to get to you and thank you personally either with a comment or message
. Rest assured we know you're there and we love you for taking the time to check us out!
Don't be shy about calling us on it if it takes us a while to get there
. We don't want anyone left out!
Bishop Stylze
(
American Idol
, singer): Thank you for all the support and feel free to
give your open and honest feedback
on anything in My Space.
The band
Everdae
(band with more friends than Todd, by the way) freely posts their
non-Myspace email address
, encouraging their fans to send as many emails as they wish.
Day of Fire
(a Christian rock band that's every bit as popular as Todd, if not more): Yo, D.O.F.ers we will be
answering messages again
shortly. We are
taking a break
to spend some time with family. Hit ya back soon.
Lisa Tucker
(
American Idol
): I'm back!!! I must tell you that words cannot describe how happy I am to have such dedicated friends and fans. I love you guys very much, and I am sooooo thankful for all the love and support. I couldn't have done it without you. Thanks for helping me make the TOP 10 on AI! I'm so looking forward to going on tour this summer, and hopefully meeting you!!! My goal is to get in the studio and record an album as soon as the tour is over. Singing is my passion, and I can't wait to share my music with the world. Thanks for the love, and all the nice comments and the beautiful pictures that you made for me. For those of you who are members of the MIGHTY TUCKS, thank you sooo much.
I will try my best to respond to your comments. Please forgive me, however, if I can't respond to all. Know that I still love you.
Leah Barrettsmith
(
American Idol
) HEY EVERYONE!!!! First off, I want to thank all of you for your sweet messages!! I love them. You all are AWESOME and I love you a ridiculous amount!
Anyhow, I'm writing to apologize to you all cuz I am not going to be able to get back to 93 percent of you
!!! So yeah, thank you sooo much for your support. I LOVE YOU ALL!!! So
since I cant write everyone back
, here are some faqs (aka: frequently asked questions, in case you didn't know.. lol) answered to make things a little less overwhelming....
1. yes, it was me.
2. yes, I guess I am single.. lol
3. though I am not looking for a boyfriend
4. yes, I am a singer and also a songwriter/musician. I always prefer to perform my own music.. but whatev! I also play guitar and a little bit of piano here and there.
5. and
YES, I would love to hear your stuff if you are also a singer and/or musician. So please send me anything cuz I will TOTALLY listen and love it soo much!
If you have any other questions, Ill update this blog as often as you ask them!!! AGAIN, THANK YOU!!!
And please dont take it personally if I dont respond to your comments and/or messages
!! LOVE U.
Joy Williams
(another CCM artist with just as many friends as Todd): I am seriously shocked about what happened Friday with my MySpace profile! I had no idea how I got on the Front Music Page, but it's been rad!
I've been receiving thousands of friend requests a day, and I can hardly keep up with everyone!
Whoever put me on the front page, THANK YOU! And to my new MySpace friends, dude...welcome. *smile*
I've had many messages asking where you can pick up my albums... so I thought I'd let you know you can get it at these places:
on iTunes, Wal Mart, Lifeway, Barnes & Noble, Berean, Borders, FCS, Target, Best Buy, Tower Records, etc... I wouldn't hate you if ya bought a copy...or two...or three...*grin*. Nate and I have a mortgage to pay off! Cheers!
(Joy also posts blogs
inviting people's comments
, including a recent one that wanted commenters to tell her their stories of struggle. 113 people have commented, to date.)
Benjy Davis Project
(band): Due to much extra traffic on the internet here in Baton Rouge, we have had problems responding as fast as before.
Please allow us more time to answer.
Hopefully the ISPs in the area will get their act together soon.
Jennifer Hudson
(
American Idol
alum and star of the movie
Dreamgirls
): I don't even know what to tell u guys. I guess I should start off by saying yes it is really me!! Oh and yes,
I do check all my messages. It might take a little longer for me to reply, because for some reason I'm getting quite popular on this Myspace thing.
That means more messages to respond to and comments to read. Now I'm not sure on how to jazz up my page, but I'll figure it out, and I don't reply back to comments because I really don't know how. I love all my messages, and I love talking to all my fans or supporters. I noticed I've been getting a lot of the same questions in the messages, so in order to be able to answer questions that are asked a lot, I'll reply generally here in my blog
Nickelback
(c'mon you know who they are, and they have more friends than Todd will ever have): The profile has gone CRAZY (which is awesome!!!!) but it means we have a bit of a backlog of requests!!!
Rest assured we will get to your request as soon as possible
and we really REALLY do appreciate all of your support!!
Carson Daly
(host of
TRL
,
Last Call With Carson Daly
): Just wanted to thank everybody for all of the emails and comments...
Sorry I haven't had the chance to respond to everyone's emails.. trying to get to as many as I can.
Please keep posting the comments, etc...
Kevin Covais
(
American Idol
): Just wanted to thank everybody for all of the emails and comments...
Sorry I haven't had the chance to respond to everyone's emails.. trying to get to as many as I can
. Please keep posting the comments, etc...
Will Makar
(
American Idol
) :I have a new
post office box
for you guys to write to me. I have some
autographed pictures to send out to you for free.
I am building a data base of your addresses. You can add your email address too if you would like.
Brooke Barrettsmith
(
American Idol
) interacts with her fans better than anyone I know.
Jessica Sierra
(
American Idol
): I just wanted to thank all of you so much for being such supportive fans. It means so much to me!
Thank you for all of your amazing messages, I get back to as many of you as I can.
Ryan Starr
(singer, actress,
American Idol
): I just checked myspace, and I got to read all your message of support and votes of confidence. I just have to say to all of you that it does not go unnoticed.
I chose to run this site myself instead of having a fan or web designer do it for me.
I wanted to be close to you all and
write back as much as possible personally
. So when you write to me and get a message in return, I am writing it. I care about you all, and I have the biggest smile ever when I read your messages and see that you care too.
I feel like a very lucky girl to be so blessed with such a devoted and loving fan base.
You guys are always there for me to make me feel like I can do anything. You always support my mistakes, and I haven't forgotten that. Thank you all for the years of continued faith through the
American Idol
junk and
The Surreal Life
laughs and the reality blah blah. I hope that as my career grows you guys will be there by my side to enjoy every moment of it with me. You are my support team, and I love all of you. I mean that. I do. I believe that anyone who believes in someone's dreams and talents is good in my book. I never had that growing up, and now I have that in you, my wonderful fans, who I love deeply!! Thanks once again, from the bottom of my little rock n roll lovin' heart.
David Radford
(
American Idol
): My
AIM screen name
is david o Radford I'm not on it very much though. So if you want to talk to me myspace is your best bet.
If you send me a message, I try my best to respond ASAP. I'm more likely to respond to a message than a comment.
"Weird Al" Yankovic
(c'mon, you know who that is): Anyway, thanks so much for dropping by. Just because you're still reading this, I already consider you one of my dearest and closest personal friends.
So please keep in touch, okay?
Don't be a stranger.
Not strictly on topic, but a community example nonetheless,
Since October
recently held a contest where fans could design their new logo, and then proceeded to
pay the winner
and
give them a credit
on the album liner.
So, as you see, there is a way to handle the situation and still come out servicing your community well. Artists, take note.
UPDATE:
Todd has removed the post in question from his blog. I think this took him by surprise just as much as it did me. I think he is handling the situation correctly, and hopefully we will have a chat and clear things up.