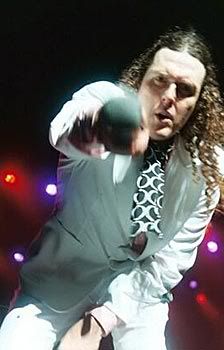 HAPPY INDEPENDENCE DAY
Well, to those of you who celebrate it, anyway.
I do realize that only 3/4 of my audience come from the United States. So for the one tenth of you who are Canadians, the 4% who are Japanese, the 3% Filipino, the 2% Singaporean, the 3% of you from Ireland, Germany and Brazil, and you other guys from an unknown country, I do have a gift for you today.
Click on
this link
to download a brand spanking new internet-only non-album
"Weird Al" Yankovic
song, courtesy of the Weird One himself. If you'd like to download it to have and to hold forever, just right click on the link and choose "Save Target As..." (that's option-click and "download linked file" for the 13% of you that are Mac users. And for the 2% of you that use Windows 98, seriously, it's time for an upgrade.) The song is called "You're Pitiful" and is a parody of James Blunt's "You're Beautiful." I particularly enjoy how he pokes fun at how James Blunt seemingly comes in too early on the song, because that's been bugging me for a long time now.
So anyway, you Americans go enjoy your fireworks with some new Weird Al goodness, and you other countries have a nice day too.