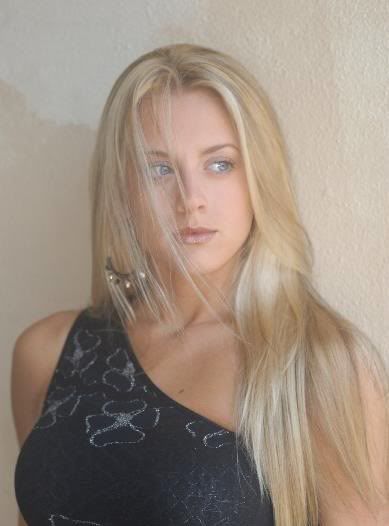 AMERICAN HOTTIE: HEATHER COX
American Idol's Heather Cox speaks to J.D.
If you're in any way like me, chances are you stood up and took notice of this year's
American Idol
blonde bombshell. That is, you stood after you rolled your tongue up off the floor.
Heather Cox
took to the stage determined to win the whole shooting match. She had fire in her eyes and a determination like few others. She came out of North Carolina and wowed the judges, earning her spot in Hollywood. Then, she fought off laryngitis and being paired with Halicia Thompson to make her way through the group rounds with her buddy Kellie Pickler. Then she made the Top 24. Then the Top 22.
Unfortunately, her luck didn't last till the Top 12. But the ravishing beauty, who once claimed to watch
American Idol
"like a stalker," is not yet set to give up.
Heather sat down with me to discuss her experience, as well as dish about her hopes for the future. It doesn't take long to learn that there's lots of brains behind that beauty (she graduated college with a 4.0!!) and behind all that is a whole lot more drive to succeed. Here's what she had to say: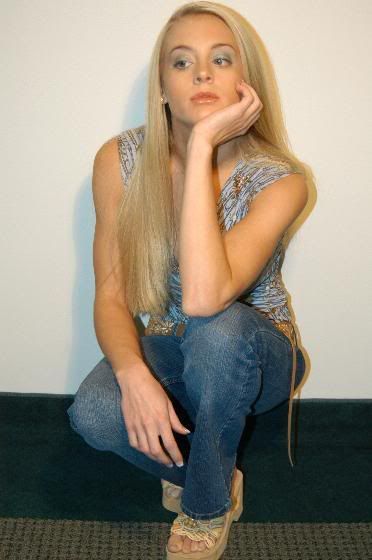 J.D.
: You came into the competition as a huge fan of
American Idol
. How did it feel to finally be a part of the show and to make it so far?
Heather
: The feeling I got when I made it to the Top 24 was indescribable! I always knew that I could make it, so to finally make it was great validation!
J.D.
: What were some of the projects you worked on prior to
American Idol
?
Heather
: I was not working on any projects prior to American Idol. Actually, due to a negative experience with a chorus teacher in the 4th grade, I quit singing till I was 21. I saw the second season of
American Idol
with Clay and Ruben, and I said to myself, "I will be on that show!" AI was the reason I started to sing again.
J.D.
: Can you tell us some of your favorite memories about being on the show?
Heather
: I had a great time while on the show. Some of my fondest memories include making it through each round. Wow, what a high! And just meeting each contestant and gaining life-long friendships.
J.D.
: What kind of things happen behind the scenes of
American Idol
that maybe we the viewers don't know about?
Heather
: AI was non-stop!! We would have to get up at 4 AM each morning just to get "camera ready," and we'd have to be at the CBS studios ALL day doing interviews and practicing! LOTS OF SINGING going on (laughs)
J.D.
: What was the worst or weirdest thing that happened to you during your time on the show?
Heather
: The worst thing that happened to me while on the show was definitely getting sick during Hollywood week. I would think to myself, "I can't believe I've made it this far just to get sick with laryngitis!!" Fortunately, the judges remembered my performances prior to that, and put me through.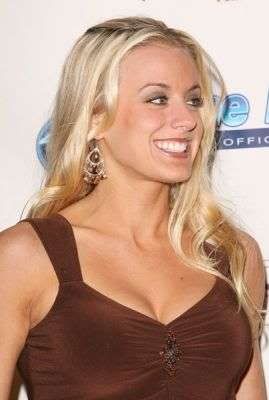 J.D.
: Who on the show were you closest to? Did you develop really strong friendships? And is Kellie really like that in real life?
Heather
: I was really close to Brenna, Kinnik, and Melissa. I got along great with all the guys as well. I just love Sway, Elliott, Taylor, Bucky and David!! As far as the Pickler goes, no, she isn't that dumb in real life. It's amazing how people change for the cameras. (winks)
J.D.
: What was your reaction to your elimination? Do you feel you got a fair chance?
Heather
: The elimination. Where do I begin? Well, it was tough. I don't think it was fair for Paula and Simon to act the way they did while I got the boot. I had a peace about it though. I had prayed earlier in the day that the Lord would give me the peace and grace to get through what ever the outcome was to be.
J.D.
: Is it challenging to be so beautiful and yet so talented? (mischievous grin)
Heather
: Some people would ask me, "Do you think your looks worked against you?" I have no idea. I just wanted people to love my voice and enjoy my performances. This wasn't
America's Next Top Model
, so if people let my looks determine whether they would vote for or against me, then they missed the point of the show!!
J.D.
: Now that A.I. is over, where will we see Heather Cox next? What sorts of opportunities have opened up to you since your appearance on American Idol?
Heather
: The Lord has and is continuing to open doors from the experience. I am currently talking to five record labels as well as four different modeling agencies from around the country, so you'll either see me in a Pantene commercial, or Crest Whitestrips. (bright smile) I'll definitely have a CD out as well!
J.D.
: Someone was telling me the other day that you bear a striking resemblance to actress Helen Slater. If they were to do a movie called
Supergirl Returns
, would you be in it? Please?
Heather
: Who is Helen Slater? I'll have to yahoo her! I would love to be in a movie. Acting is also one of my passions, so you'll hopefully see me on the big screen as well!
J.D.
: If you had to choose between pursuing a music career or an acting career, which would you pick and why?
Heather
: Acting or singing? Why not do both? I think it's possible! However, I would have to choose singing. My passion lies within my gift of song and it truly is a gift from God. He is the one that has made all things possible for me, and I feel that I can reach people for Him through my music.
J.D.
: Is there anyone special in your life right now? And if not, you should really consider goofy-looking blonde journalist wannabes. They're the best.
Heather
: I am currently single. I find that it's easier to pursue all the opportunities coming my way without strings attached. I can't wait to find the right one for me though, get married, and have a family! I am a romantic. (smiles)
J.D.
: Imagine yourself five years from now. If you meet all your goals, what will you be doing then?
Heather
: In five years time, I will have a successful singing career, using my talents for the Lord and be modeling and acting as well. I hope to meet Mr. Right during that time and perhaps have walked down the aisle. (winks)
J.D.
: Are there any CDs or DVDs of you performing for which we can throw piles of money at you?
Heather
: (laughs) I do have DVDs of me singing. I'd be willing to sell them for a hefty fee!! (winks)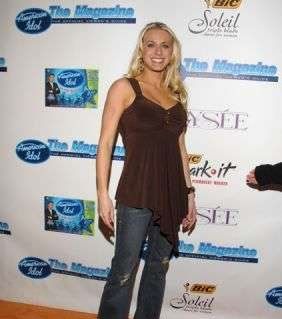 J.D.
: Where can your fans go online to catch updates about you?
Heather
: My fans can visit my Myspace page to stay updated about all my endeavors. It's
www.myspace.com/heatheridol06
. I will be getting an official Heather Cox fansite up shortly too.
J.D.
: Will you be making any public appearances in the near future?
Heather
: I have been making lots of public appearances since the show. I've been asked to sing for the Carolina Hurricanes NHL team as well as the Charlotte Bobcats NBA team. I sing around NC quite a bit for youth conferences as well as revivals!
J.D.
: What have you learned from this whole experience?
Heather
: I've learned quite a bit through the whole experience. I would have to say the most important thing though is to trust wholeheartedly in the Lord. When you're feeling down, just ask Him to give you the strength to get through what ever it is, and He will. He was with me every step of the way. (grins)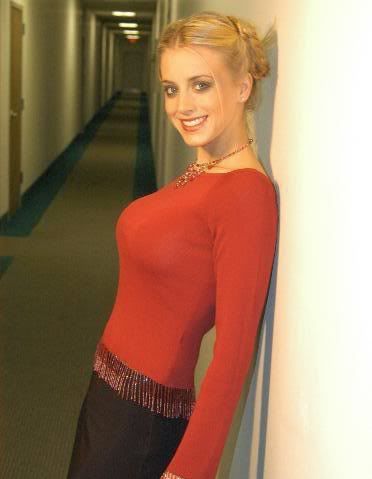 J.D.
: How do you handle the inevitable criticism you receive as an artist?
Heather
: I know everyone has different opinions about me. Some good, some not so good. I had a taste of it while on the show. I can't worry about it. I sing for an audience of one, and that is the Lord. As long as He's pleased with me, nothing else matters!
J.D.
: If you could impart one last nugget of wisdom upon us, what would that be?
Heather
: My last nugget of wisdom would be to put your trust in the Lord, delight yourself in Him, and He will give you the desires of your heart. You'll be amazed at where He'll take you!!
J.D.
: Thank you so much for taking time out to talk with me.
Heather
: Thank you! (smiles) I hope you liked my answers!! Thanks for allowing me this opportunity.
Once again, if you'd like to check out Heather online or drop her a message, visit her at
www.myspace.com/heatheridol06
. Show her some love!
Oh, and just so you all know, Heather called me "sweetheart." I want that engraved on my tombstone someday.