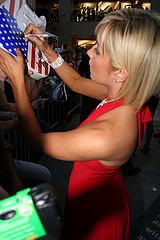 NEWS & NOTES
Hey, just thought I'd post a few news and notes. I know I've been light on the blogging lately, and I've been struggling to get to each and every one of your blogs to leave comments. I've missed a lot lately, but I promise, I'm getting around to reading you all, and I appreciate you guys still reading me.
First off, big shouts to
Ryan Starr
, who just did a concert at a NASCAR event here in Memphis. I wasn't able to get to her concert, but she sent me a personal note about it nonetheless. I hope to catch her next time, though. I haven't yet been able to interview her, but regular
Ramblings
reader
RealityMaven81
did, so check that out! In his book, Simon Cowell described Ryan Starr as sort of a prima donna, but those of us who have actually interacted with her know differently.
Well, it looks like sixth place
Idol
finisher and object of my desire
Kellie Pickler
has signed with 19 Entertainment (
Idol
's management company), joining fellow Idols Chris Daughtry, Taylor Hicks, and Katharine McPhee, and according to my good friends over at
Reality TV Magazine
, she'll have a single out by September, with an album on the shelves by November 14. She also appeared recently on
The View
and dashed all of our hopes by announcing that she's rekindled a relationship with an unnamed old boyfriend ("the best garage door installer ever" according to her.) Congrats to Kellie. It's extremely rare for a sixth place contestant to get signed, but obviously Kellie's rather
rabid fan base
helped her get there by showing that they'll eat up ANYTHING Pickler. (Plus they visit this site a lot. Thanks guys and gals!)
Speaking of rabid fans, I just got an email from
The Canthony Forums
, which, if you haven't guessed it already, is a forum dedicated to Carrie Underwood and Anthony Federov, and more specifically those two as a couple. Hey, there's a group out there for everyone. It says, and I quote: "Canthony's getting married!! Well not in real life, but on the board, Bailey (iLoVeCaNtHoNy) decided to throw a little online wedding for our two favorites! Make sure you come by and join us! It is taking place on Sunday, July 30, at 4:00 PM CENTRAL time. There are still positions open for groomsmen and a ring bearer, if anyone's interested." As obsessed fans go, these are probably top tier in taking things a bit to the extreme. I don't know if an online pretend wedding of two reality stars that don't even know they're supposed to be getting married (and aren't technically even going to be there) is the exact picture of mental health, but these fans at least didn't go as crazy as
certain OTHER fans
over the Jessica/Carrie controversy, and they're generally nice to talk to when they aren't writing their fanfics. Check them out.
David Radford
sends his thanks to you all for helping his friend with her hair decision. (And yes, that post was deleted, since the girl in question didn't want her pictures remaining for all eternity on the blog, and I'm nothing if not compliant with people's wishes.)
Todd Agnew
did respond to me in an email, and we're going to hook up and discuss the recent controversy surrounding his blog and mine over dinner when he gets back to Memphis. He's in the process of recording a new album and touring.
Brooke Barrettsmith
told me that the rumors about her getting married were false. I guess there's still hope!
Condolences go out to the family of Danny Dollar, a member of the Rockabilly Hall of Fame, and friend to
Ramblings
friend
Roxie Mae
. Danny passed from this life on July 14 after slipping into a coma resultant from his bout with throat cancer. (P.S. Roxie, I'll be in touch soon, I promise!)
It is also with great regret that
Captain of a Crew of One
leaves the
Musical Ramblings
blogging community. SailorCurt, if you're still reading, I'll miss reading your posts, but I understand that you have to go take care of this thing we call life. Fair seas and following winds!
Congrats to
Mike J.
on his new job and decision to move. God speed, bro.
Kristen McNamara
has released her new self-titled CD, and you can have it for your very own for only $12 (which includes shipping and handling!) I profiled the former Nashville Star
here
, so go check that out. I hope to have my copy of her CD in my hands soon.
And that's it for today's news & notes!