NASHVILLE HEART: GREGORY DELANG
Despite what you may have begun to believe, the
Reality TV Convention
was not just about meeting American Idols. I met lots of wonderful people there.
One of the tables that I kept walking by was for
Gregory DeLang
, a contestant from season 2 of
Nashville Star.
I eyeballed her merchandise, but moved right along.
Big mistake, as I would later find out.
During a break from the convention, I stepped out onto the Cumberland Ballroom's patio, and there sitting with her guitar in her lap and singing ever so sweetly into the camera was Greg. I sidled up next to Toni Ferrari, who I'd met previously, and along with
The Biggest Loser
's Matthew Kamont and a few others, we watched Greg weave her magic spell.
She was singing the song "Texas Time," which is the first track of her CD and easily one of the most soulful and heart-rending country songs I've ever heard. She just sort of drifted into another world while singing, only to be snatched back into it by a non-compliant guitar that she claims was going out of tune. (I couldn't tell. I was just listening to her angelic voice.)
Toni, who is also sister to
American Idol
's Nikki McKibbin, ranted on and on in disbelief that Greg has not yet been signed. I was also in disbelief. I stepped in and spoke to her for a little while as well and told her that I thought she was quite good.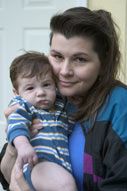 Just looking at her, you can see that this is a woman who has seen a few things. She's not like a lot of wannabe country girls with the short skirts, bright smiles, and flash-in-the-pan suspect talents. There is something very honest and earthy about Greg. You can see it in her eyes. There's a warmth there that belies years and years of personal pain. She smiles, and there's just the least little bit of world-weariness peeking around the corner of her lips. Still, she's quite beautiful, on both the inside and out, and once she picks up her six string and lays into you with her gorgeous country ballad, you're hooked and you can't turn her away.
When I found her again at her booth, she gave me a sample of the song again, this time from the CD player. And that was it. I had to own it. I left the booth, rushed to an ATM, got the cash and gladly plopped it down. She signed the cover, "Keep It Real."
Suddenly, I knew what it was that was really drawing me to her as an artist. She's real. So very real. The words to her songs mean something, and she means them when she sings them. And she leaves you wanting more.
I had to have an interview, and she gladly obliged me!
J.D.:
Tell us a little bit about your time on Nashville Star.

Greg:
Well, I got on there for Season 2 of Nashville Star. When I was on there, I had JUST gotten on there after the birth of my son a week before.
J.D.:
Wow!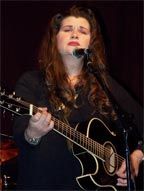 Greg:
Yeah. I was pretty emotional. I don't know if you know anything about that, but you're very hormonal, because you're going up and down like a yo-yo. And then they…well, before my first song on the show, they showed a video of me and my son in the hospital. And right before I sang, I said "he has lungs just like his momma!" And then I had to perform after that, and I got very emotional and cried. It was very emotional. But real!
J.D.:
Definitely real! I enjoyed getting to hear you singing "Texas Time" outside the convention room. You have an extremely beautiful voice.
Greg:
Yeah, I don't know what was wrong with my guitar. It was just fine in here, but I guess the heat out there knocked it out of tune.
J.D.:
All I heard out there was a gorgeous voice, forget the guitar! So, are you looking to record a new CD any time soon?
Greg:
Well, y'know, I'm right in the process of writing songs for domestic violence, because I've been involved in that. I had to get out. I know several people in that situation. I'm still going to counseling and all that stuff, dealing with it, so I'm writing a CD of songs about it. I've tried to walk away from music, but I think God keeps putting people in my path to say "this is where you are supposed to go." I haven't ever done it for the money. I've always done it for the passion and the love of it, and I know God wants me to do it.
J.D.:
There are a lot of girls out there, and a lot of guys even, that suffer from domestic violence. What words of encouragement would you give to them?
Greg:
Live to love another day. And that's the title of one of my songs I have on my CD. I wrote it with Mike Rogers.
J.D.:
Where can we purchase your CD at?
Greg:
At
agirlnamedgreg.com
. You remember the song "A Boy Named Sue?" It's just like that, except it's agirlnamedgreg.com.
J.D.:
Are you going to be performing anywhere soon?
Greg:
Oh, thank you for asking that! I'm going to be playing at the Blue Bird on June 8th. It's a 6 o'clock show with a few of my fellow Texas friends. In fact, one of my writer friends, Michael Rogers is gonna be performing as well. We're hoping for a good turnout.
J.D.:
Who all have you worked with in the industry?
Greg:
Well, I used to be a writer for a publishing company a few years ago. I can't give you the dates. (laughs) I've been in and out of the business for a while. Then I got into record promoting with small market radio for three years. So I've been in the music business for over 20 years. I'm not a newbie.
J.D.:
Do you have any songs online that we can sample?
Greg:
Well, you can listen to samples of the songs that I have on the CD out now, called
A Girl Named Greg
!
J.D.:
I can't wait to get this CD out in the car and listen to it. Thank you so much!
Greg:
Thank you, JD, and you take care of yourself too!
After that, it had to be a huge hug. You wouldn't expect anything less from an artist who is so awesome, so real, and so connected to her audience. Truth is, I could have sat there all day, but there were things to do.
You Nashville fans out there should go catch her at the
Bluebird Café
. As she said, she'll be performing on June 8th at 6:00 PM, alongside artists like Michael Conner Rogers, Ariel DeSilvis and Olin Murrell. Better catch her while you can, because she still does not perform live too often due to her focus still being on rebuilding her life after divorce and spending time with her 2 year old.
If you'd like to sample her CD, and you should, you can hear snippets of the first four tracks at
www.agirlnamedgreg.com
. The CD is available for purchase via Paypal or check/money order. You can also contact her, check out her photo gallery, and sample her recipe for Greg's Texas No Fuss Butt-Kickin' Brownies. Mmmmmm! Now go show the girl some love!