AMANDA AVILA FLIPS THE SCRIPT!
Usually what happens on this blog is that I go out, find
American Idol
contestants, interview them, and post what they say back here.
Not today!
I had just finished talking to Jessica Sierra and was winding my way back through the convention center when season 4 contestant Amanda Avila caught my eye. She was one of my favorites last year, even though she didn't make the top 12 cut. I don't know what it is about her; maybe it's her spunky attitude, her sweet demeanor, or the fact that she's drop dead gorgeous. Maybe it's a combo of the three.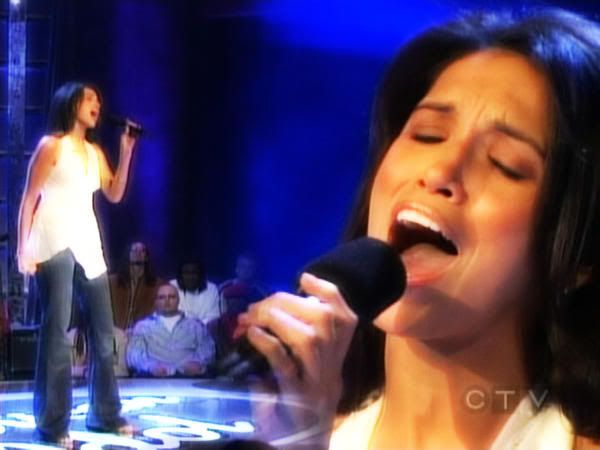 Anyway, as soon as I rolled up my tongue and put it back in my head, I grabbed a sharpie and asked her if she would mind autographing my tote bag. Of course, she didn't, and as soon as she signed it, she grabbed my shoulder and told me to stick with her for a minute. The next thing I knew, a camera and a
Fox Reality Channel
microphone was in my face.
Not the end of the interview I'm used to, trust me!
I did fairly well, though, I think. Amanda asked me for my thoughts on
American Idol
and reality TV in general. She wanted to know who my favorite Idol was (her, duh) and my rationale for why reality shows and their stars are so well liked and watched. Then she asked me which show I'd want to be on most, and I, of course, said
American Idol
, and I then proceeded to sing Elvis Presley's "It's Now or Never" to Amanda, hugging her and serenading her. I do believe Miss Avila blushed a bit, but she did say she'd vote for me!
So after that was all over with, I signed Fox's waiver so they could show me on television, and got another hug from Amanda.
Was I any good at singing? I don't know, but I will tell you this: reality superstar Toni Ferrari stopped me outside of the studio, looked me dead in the eye, and said "you are reaaaaally good, man." (More on her later.)
So, if your cable service carries the Fox Reality Channel, tune in next week to see if you see me! You can also check
www.realityremix.tv
to see times and subject matter! I don't get that channel, so if any of you do, and happen to tape it, I will be more than glad to compensate you for shipping it to me!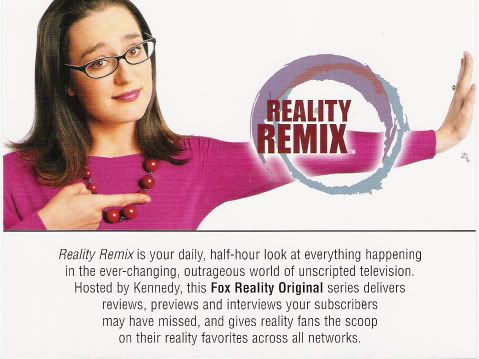 So, this is the tip of the iceberg for my reporting on the Reality TV Convention. What can you expect for the next several days? I'll be giving you coverage on the
American Idol
discussion panel (where the contestants are surprisingly frank!), three personal interviews with the contestants, pictures upon pictures, reviews of the Idols' performances, and more! I've networked today with a news service out of L.A., Reality TV Magazine, TV Guide, the Fort Worth Star-Telegram, Fox Reality Channel, and several others. Busy busy! So keep checking back. More each day!