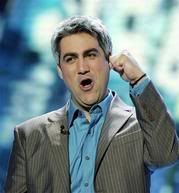 BIGGEST "DUH" HEADLINE OF THE DAY
:
Can you say slow news day?
The Associated Press is leading with the following story today:
IDOL TAYLOR HICKS SIGNS RECORD DEAL
.
Uhh..Durrrr??
Further shocking news: he signed with 19 Entertainment/Arista, the self-same producers of
American Idol
!! (cue dramatic music and widespread gasping)
Seriously...this is an actual STORY on May 31, a full week after the finale???
Somebody get me a job application. I'll show these A.P. freaks what NEWS is.
P.S. Brooke Barrettsmith says hi
.