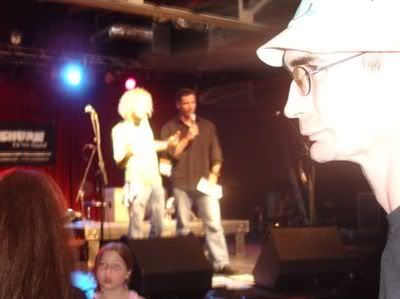 REALITY TV STARS CONCERT
One of the major features of the
Reality TV Convention
was the concert/after party at City Hall given by cast members of
American Idol
and
Nashville Star
. It promised to be a good show with five very talented performers.
The convention started shutting down for the day around 4, so I rolled out and grabbed some supper, then tried to kill the three and a half hours between the convention and the concert. I cruised around downtown Nashville for a while, taking a look at the Tennessee Titans' stadium and observing all the nooks and crannies of the downtown scene. That got boring fairly quickly, so I went over and sat outside of City Hall to wait on the show to start. I met up with my friend Nicole who I'd met earlier, and we watched the small crowd come in. And since there were some fairly swanky restaurants around, we also counted how many Lexus cars drove by. Soon, the reality stars started pouring in, and we again socialized with the celebs and Nicole got interviewed for some TV news package.
Before too long, we went in.
Average Joe's
Dennis Luciani and I had a brief and friendly argument over who would hit on Lindsey Cardinale, until I conceded that he could have Jessica Sierra. Dennis is a fun guy. We'd met and had some conversations earlier in the day. Nicole, of course, laid claim to Scott Savol.
There was a brief meet and greet to begin things off, and we settled in to a table next to the cast of
The Real Gilligan's Island
, whom I suspect were only there because they had nothing better to do that night, with the exception of Mark "Gooner" Grosbeck. There was a full working bar off to the side, but since I don't drink, it was only useful for really expensive Diet Cokes.
The concert was hosted by
Burton Roberts
and
Jonny Fairplay
from Survivor. Let me tell ya, if Jonny weren't on crack, he should've been. He continued to come out onstage dressed in pink girl-sized t-shirts. When he was off-stage, there was always a cup of something highly flammable in his hand, so that might explain a lot. He ended up getting thrown out later on that night after he spit on
The Real World
's M.J. Gregory, who didn't exactly assault him back, but didn't exactly leave him standing either. Burton just sort of looked embarrassed to be there on stage while trying to keep Drunky Jonny from saying the F-word or making any more idiotic marriage proposals to fellow
Survivor
Jerri Manthey. Jonny was hospitalized the next day for getting his arm stuck in the Marriott's elevator, which has got to be one of the top five most stupid ways to get hurt.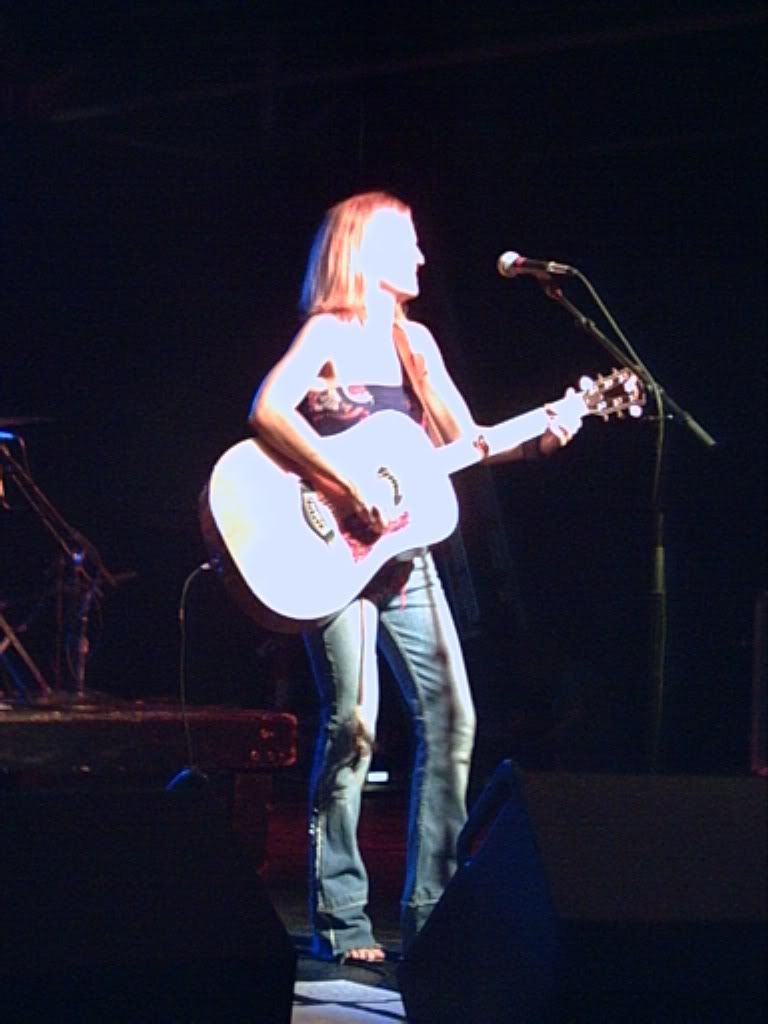 First up was
Amy Chappell
, from the first season of
Nashville Star
. I wasn't sure how I'd like Amy, but she did a good job and sang some good country songs. One thing about the
Nashville Star
contestants in this show was that they played their own instruments and had live supporting instruments, as opposed to the pre-recorded music the Idols used. Amy previewed some songs from her new album, which sounded amazing. Amy's a soulful country singer, and her songs cut straight to the heart. She's a talented songwriter and she's very sweet in person. You can check her out at
www.amychappell.com
. Her performance was mellow, and the crowd was equally mellow. Almost too mellow, because only a few people actually made it out onto the open floor in front of the stage.
Next was
Brandon Silveira
, also of
Nashville Star
's first season. He's an odd sight as a country singer, what with his spiked hair. You'd expect him to come out and sing a Blink 182 song, but he actually has a very traditional honky-tonk type of country voice. I have to be honest, though. I didn't like his set. Most of his songs were over-modulated and screamed, rather than sung. It's possible that I didn't like it because I generally don't like honky-tonk style drinking music. I just was ready for him to get off the stage, and I was glad that the openers only got three songs apiece.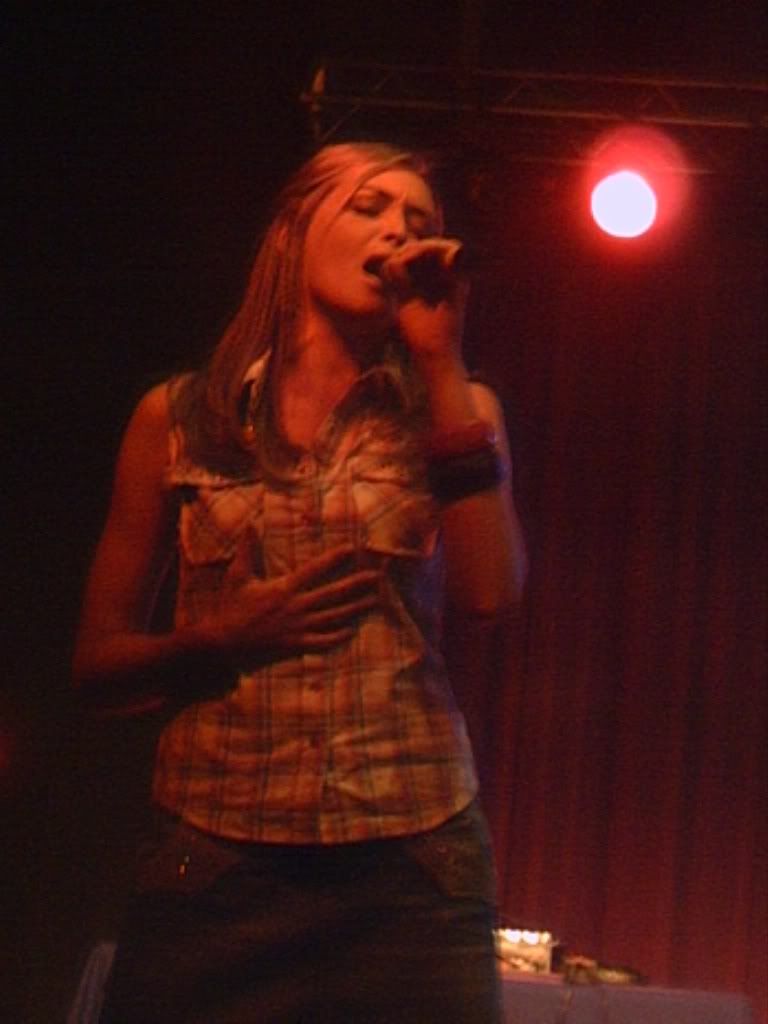 Up next was
Lindsey Cardinale
, who looked stunning with her hair swept to the side and wearing her denim skirt and cowboy boots. For some reason, Lindsey wasn't able to perform her original songs that night, but she did have a set full of some of her old Idol favorites, except of course "Knock on Wood," which she hates. Lindsey must have been working on her vocals since
Idol
, no doubt. She sounded unbelievable in person. She tackled quite a few difficult country ballads and nailed them all. The only thing I might even halfway have criticized is that Linds appeared to be still working on her stage presence. There were any number of factors that might have affected it that night though. For one thing, the crowd was small, and it was a lot more intimate. Lindsey's a somewhat shy person, I think, and that didn't help. And for another thing, she was still very much smarting from what happened at the Strawberry Festival this past April. Still, that was a VERY minor part of the show, wasn't nearly as bad as whoever rigged the mics, and she was VERY good. I shouted "I love you Lindsey" from just off stage, and it sort of threw her off because she couldn't find me. She smiled though. Gorgeous. She was at her best when she sang Bonnie Raitt's "I Can't Make You Love Me." Jessica Sierra was with me in the audience, and she turned around and reached for me, and we sang the song to each other for a while.
I was hoping for Lindsey's set to never end, but like all good things it did.
Scott Savol
was up next, and his first order of business was to get everyone up out of their seats and on the dance floor near the stage. Scott, wow, what a set of pipes! He also sang his
American Idol
standards, including "Against All Odds," Hall & Oates' "She's Gone," and "Ain't Too Proud to Beg." Scott had a complete command of the stage. He played well to the crowd, and only got thrown off a couple of times by the sound guys, who I'm sure are great people, but who did a completely incompetent job of running the music as well as making sure the mics never actually worked 100 percent of the time. Scott completely got the crowd going, and he made his way to us all, slapping hands with everyone who was standing next to the stage and singing to all the girls.
I think it was during "Ain't Too Proud to Beg" that I realized that I was at a concert like I'd never been at before. Jessica Sierra came by a few times and tried to get me to dance. The cast of
Big Brother
were all around me, acting goofy, particularly Howie Gordon, who kept shouting inane things up to the stage. Gooner from
The Real Gilligan's Island
got Nicole and started doing this crazy dance, and Dennis Luciani tried to get us doing the same.
Kept
's Jon the Blazer was trying to dance with every girl in the room. I was totally into the music, except when I saw
Reality Remix
's Amanda Avila walk by in a long dress and red heels. I think I lost consciousness for a moment. Definitely a unique party.
Last up was
Jessica Sierra
, who was the only Idol to perform original material. And great material it was. Jessica, who had previously been working the crowd off-stage, was now the center of attention, and the way she worked the crowd was nothing short of magic. Jessica's a short little thing, but she was a ball of energy, and where she brought that voice from, I'll never know. She sang several new tracks off her upcoming album, which I must add that I will be buying whenever and wherever it becomes available. Jessica had a way of making it seem like I was the only person she was singing to. She connected so powerfully and so intimately that I was left with the feeling that I really really knew her once the show was over. I wanted to buy her album. I wanted to see her again. She made her way over to me, grabbed my hand, knelt down on her knees and sung part of "Cheapest Secret" to me, and I melted. It was a lot like a private concert, partially because her mic went off all of a sudden and I was the only person who could hear her, and partially because Jessica just fixed her eyes on me and sang her soul out. I know it wasn't all just for me, but she definitely had the skill to connect and make it seem that way. After hearing all her original songs, I felt certain that this girl would become huge. Her songs emulated all the good qualities of Avril Lavigne and Kelly Clarkson's bigger hits, and radio will adore them someday. I told her this, as if she didn't already know the gameplan, while she was preparing to leave the stage. Jessica rounded out the show by bringing Scott Savol back on stage and they launched into their much ballyhooed duet of "Total Eclipse of the Heart." The performance was a show-stopper on the
American Idol 4
tour, and it was definitely one here.
The show was over, but the electricity remained in the air. Scott made his way through the crowd, stopped to say hi to me, and I told him that I really enjoyed his set and wished him well. We man-hugged and parted ways. And then there was Jessica. "You are the next big thing," I told her, and I think she blushed a bit. I told her which songs I really liked and complimented her on her performance. Then when saying bye, she threw her arms around my neck and gave me a great big hug. Score! I went over to Lindsey's table and said bye to her as well, not getting to go for the hug, but it was okay, because I had gotten one earlier. And then after hanging around, getting a couple more Diet Cokes, socializing, and listening to the DJ, it was time for me to go. The after party was great, but this was only the first day of my vacation, and I was aching for sleep. I said bye to Amanda Avila on the way out, and then I hit the road with a smile on my face and vivid memories to carry with me.
I didn't listen to the radio at all on the way back to Memphis. I kept replaying the concert in my head, and that was enough for me.
UPDATE
:
Reality Remix
will be featuring the Reality TV Convention this week (as well as, quite possibly, an appearance by yours truly.) It airs on Thursday, June 15 at 7:30 PM and 11:30 PM Eastern and 4:30 PM & 8:30 PM Pacific on
Fox Reality Channel
. The show is also broadcast via the internet on the day after at
Reality Remix's website
. Anyone who can tape or record this for me, I would be grateful, as I don't get that channel.