METROPOLIS SUPERMAN CELEBRATION 2006
(photos--except the promotional one to the right--are all taken by me, myself, and I, and may be enlarged by clicking on them, and yes the drawings were done by me!)
Those of you who are fans of the world's most recognizable superhero, Superman, will want to visit his hometown this summer. Metropolis, IL, will be hosting the annual Superman Celebration again June 8-11, 2006.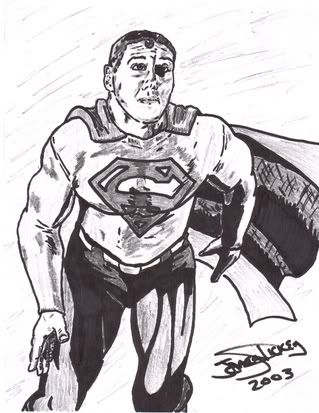 Didn't know there was an actual Metropolis? Well, according to their Chamber of Commerce: "On January 21,1972, Metropolis, Illinois was given authorization by National Periodical Publications (D.C. Comics) to become the adopted "Home of Superman". The same year the state of Illinois also recognized Metropolis as the "Home of Superman" by passing House resolution #572. Superman himself was designated a "distinguished Son of Metropolis", The only so-named city in the United States with a Zip Code. The Metropolis Chamber of Commerce then set into motion a promotional program to use Superman in a not-for-profit manner to promote the general welfare of the Metropolis Community. This is our 28th Anniversary of the Superman Celebration."
I went to the Celebration last year, and let me tell ya, Metropolis loves its most famous (if not most fictional) citizen. In the town square, there stands this statue: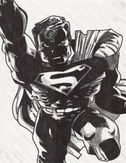 But lest you think that Superman is all there is to do here, you're sorely mistaken. The Superman Celebration also features carnival rides, Superman celebrity guests, street vendors, Superman games, music, and entertainment. Last year's celebrity guests were
John Schneider
(Jonathan Kent of
Smallville
),
Noelle Neill
(Lois Lane of
The Adventures of Superman
), and
Margot Kidder
(Lois Lane of the
Superman
movie franchise.) Also making a special appearance last year was the
General Lee
from
The Dukes of Hazzard
. (John Schneider actually drove it!) There's usually some sort of musical entertainment each night, and there are several Superman dramatic productions, starring Metropolis's own official Superman (pictured at the top of this post!) And last year,
The Tonight Show
with Jay Leno sent Mo Rocca down to do a feature on the festival.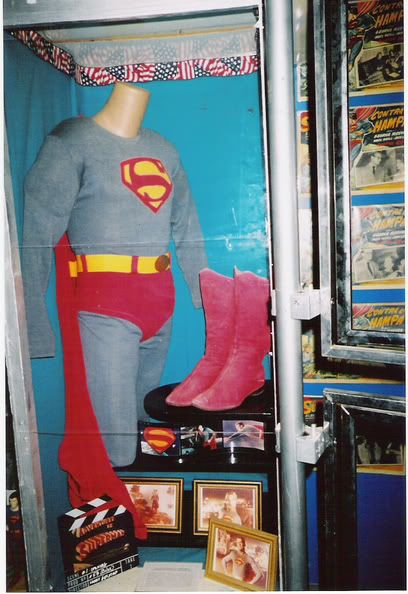 While you're there, you should visit the
Super Museum
, owned and operated by Jim Hambrick. I spoke to Mr. Hambrick last year, and he told me a little behind the history of the museum. Originally, the museum was a traveling exhibit, but the sheer volume of artifacts soon became too cumbersome and he had to settle down. Metropolis seemed like such a natural place for him to do so, and it was there that he opened up the Super Museum. The museum is located on the town square (aptly named Superman Square) right across from the statue. It's open from 9 AM to 6 PM seven days a week, and the price of admission is a measly three dollars. You might wonder how he keeps his doors open with such a paltry sum, but let me tell ya, he's never at a lack for visitors.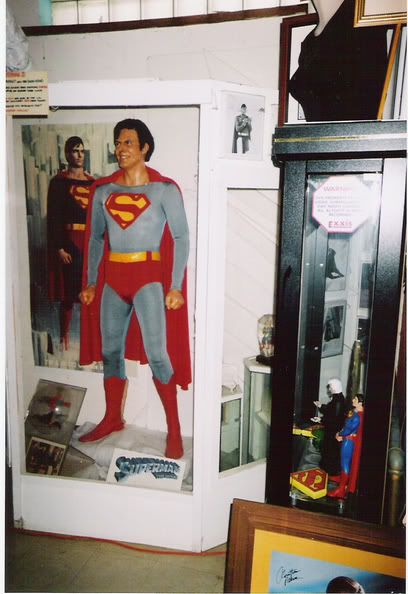 Inside, you will find everything you ever wanted to see about Superman, from movie artifacts to a comprehensive collection of Superman toys and merchandise, to comics, to personal items donated by the cast and crew of various Superman motion pictures. There are costume and set pieces from the Kirk Alyn Superman serials, including a chunk of Kryptonite. There is an almost complete Daily Planet set from George Reeves'
The Adventures of Superman
, including a Clark Kent suit and two Superman suits. Also represented is the
Superboy
series that starred Gerard Christopher (which incidentally will be on DVD soon.) Naturally, there are several Superman costumes and capes from the
Superman
movies of the late 70's and 80's. Helen Slater's
Supergirl
has her own room of artifacts, as does the Dean Cain and Teri Hatcher series
Lois and Clark: the New Adventures of Superman
, complete with costumes, set pieces, props, and various other memorabilia.
Even the relatively new
Smallville
is featured here.
Jim also wants everyone to know about his new "Americana Museum." This from the
Superman Supersite
"For those who have seen the Super Museum, all I can tell you is that you ain't seen nothing until you visit Jim's new museum. Located near Harrah's Casino and the huge "Kryptonite" rock, the "Americana Hollywood" museum features collectibles from movies, tv shows, and actors past and present. Jim has amassed a collection that rivals his Superman one. Everything from Pamela Anderson's outfits from "V.I.P." to the original written lyrics to Jimi Hendrix's "Purple Haze" are in this huge museum. There's even two Macaws that can speak very fluently... and take your finger off if you get too close. Make sure you visit both museums when you visit, you won't be disappointed!"
There are also huge gift shops associated with both of these museums, and lucky you, you don't even have to travel to Metropolis to shop there. Just visit
The Superman Superstore
online to check out both stores. There's plenty of memorabilia and souvenirs in stock for even the most die-hard Superfans. Trust me; I've been there. If Jim doesn't have it, he'll get it for you.
Unfortunately, I won't be able to make it to the festival this year, though I had previously planned to, but if you're within driving distance of southern Illinois, consider making June 8-11 a weekend to go out, embrace your inner child, and celebrate an American Icon!
Oh yeah, I drew this and the Superman drawing above myself!!: