"Weird Al" Yankovic - Straight Outta Lynwood release date set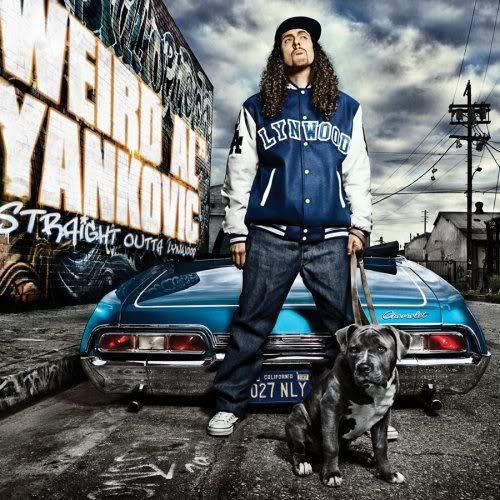 The much anticipated, world-changing release of "Weird Al" Yankovic's latest sweeping epic album is upon us. The Weird One will be but a thin sheet of plastic polymer away from listening goodness on September 26th. And if you can't wait that long to send Al envelopes stuffed with cash, you can go to
www.weirdal.com
and pre-order your copy.
The new album will feature parodies of Chamillionaire, Green Day, Usher, and R. Kelly. Idol fans, he will also be paying tribute to Taylor Hicks (and since Taylor's only had one single, I assume it will be a hilarious send-up of "Do I Make You Proud?") Fear not, though. Al is always tasteful and respectful in his parodies.
The CD will also be available in DualDisc format, which includes PCM Stereo, 5.1 Surround and instrumental mixes of the entire album (with on-screen lyrics option), plus a 9-minute behind-the-scenes documentary and 6 BRAND SPANKING JUST-HAD-THE-UMBILICAL-CORD-CUT NEW MUSIC VIDEOS! So there's really no reason for you not to buy this album.
Still unsure? Fine. You're a tough crowd. How about a free download to sweeten the pot? Go to
www.dontdownloadthissong.com
and open the e-card. You will be treated to a video of Al's new single, "Don't Download This Song," which is a scathing commentary on the RIAA and their lawsuits and is completely ironic and hilarious. Of course, on the e-card you are given the option to download the song. (And you should. Nobody will be upset with you if you do.)
Don't want to do it that way? Well, hardheads, you can still go and download it for free at
Al's Official Myspace Page
. There's absolutely no reason not to.
What you do with the mp3 after that is really none of my business.