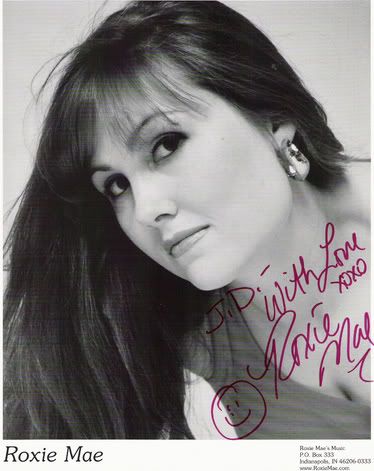 ROXIE MAE UPDATE
I'm sure you guys remember the lovely young lady that I interviewed last week by the name of
Roxie Mae
. If you don't remember my conversation with the up and coming singer, then I plead with you to
click here
and read it first before moving along.
My favorite girl from Indianapolis (sorry Teri and Mojo) has made some changes to her website. For one, she's moving her journal to her
Myspace
blog. Add her as a friend while you're there. And admire how pretty the profile looks. (I helped her do the layout, but she provided the cutie in the picture.)
And the website is undergoing a makeover in anticipation of her new album, which will be reviewed right here just as soon as I get my grubby hands on a (ahem, autographed) copy. Roxie promised!
Oh yeah, in case you want an autograph, you can enter the monthly drawing on her
website
. It works the same as the drawing on
Candace Cameron Bure
's site...one winner per month receives an autographed 8x10. However, after December, Roxie promises that the competition will get even sweeter. She didn't tell me how, but I know the surprises that Roxie has sent me, and trust me, she is very imaginative!
Vintage Love Letters
, Roxie's second CD should be dropping around January '07, with pre-orders starting in November. Pre-ordered CD's will be autographed, so bookmark her page so that you'll remember to go there and order it in November. You can do that while you're there ordering
Shades of Blue
, which is well worth your time, as well as checking for tour dates of shows that Roxie will be performing to promote her new release.
According to Roxie's webmasters, your response last time was tremendous, with traffic to her site almost doubling. So let's support my favorite Indy girl one more time and make her a superstar!