Musical Ramblings First Podcast Makes Waves... Idol Waves, That Is...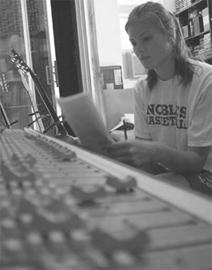 Several of you guys have been bugging me to do a podcast, so I'm gonna do you one better. I'm gonna give you guys a fully produced radio show.
My buddy DJ Kenndawg over at
Idol Waves Radio
and I are working together to get a weekly show going. Idol Waves, if you've never listened before, is an online station, hosted on Live365, that plays and promotes music recorded by American Idol contestants from every year the show has been on. That means you might hear the latest single from Kelly Clarkson, unreleased tracks from Taylor Hicks, or really just any song that any Idol contestant has produced.
Every week, listeners vote, and a Top 20 chart is tallied. And there's where my show comes in. I'll be counting down the Top 20 songs on Idol Waves week to week, as well as bringing my own personality and commentary to the show.
The first show will be going into production this weekend, and we're shooting for a target air date of Tuesday, September 5, 2006 for the show's premiere! Air times are not yet set, but I'll be filling you in when they are. Kenndawg is handling the logistics and the charting, and I'll be voicing and producing the show.
Again, this will be a weekly show. For the moment, I will be streaming only on Idol Waves Radio, but I will be looking at the logistics of making the shows downloadable so you can enjoy them on your own time!
Keep your ears open. I'll be bringing you updates soon!
(picture courtesy of Ayla Brown, whose album "Forward" will be available on October 17)