Roxie Mae - Vintage Love Letters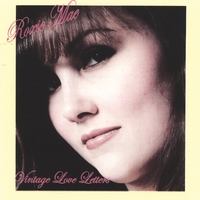 So my girl Roxie has put out a new CD, and knowing my weaknesses, she sent me out a copy all autographed up and everything. It's definitely a nice disc, and the niceties extend into the music itself.
There's something incredibly honest about
Vintage Love Letters
. It's far and away a maturation above
Shades of Blue
, which I liked, but also which was a freshman effort, and as is the case with most first releases had room to grow. There's something very raw, though, about Roxie's music. It's geared more toward a pop/country sound, but it's very stripped down, un-produced, and that helps some of the emotion of the songs come through very clearly.
I like it. And I think you just may too.
Roxie's CD is available for the low low price of $9.99 through iTunes, and at that rate is well worth your buy. And for those of you who still like the thrill of having a jewel case and an actual CD to have and hold, you can order it through
CDBaby
for just a little over $12. There are also six tracks available for sampling on CDBaby. I must emphasize, though, that the CD is meant to be heard in its entirety. There are quite a few different styles represented here, so check out ALL the samples.
You might also check out her
Myspace
and her
website
. Tell her J.D. sent ya.