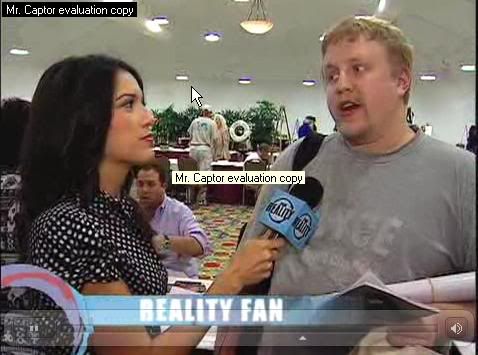 I'LL BE GIVING OUT AUTOGRAPHS LATER.
That's right, folks. You're now in the presence of a blogger who spent fifteen entire seconds of his life on national television. On cable, no less. With my raggedy hair and non-athletic frame. Y'all kiss my pinky ring.
Hey, I'm down 20 pounds though. Betta recognize!
So basically, yes my interview did make it to air on
Reality Remix
, but everything was cut except for two questions: What is your favorite reality show? and Do you sing?
On the cutting room floor is my dazzling performance of "It's Now or Never" as I held Amanda Avila in my embrace. I guess they didn't want to pay the royalties to air the clip I sung. Oh well. I guess I'll have to break out somewheres else! I was gonna upload the clip to YouTube and post it to watch, but YouTube hates me and doesn't want to cooperate.
So...I know you guys are probably getting tired of me babbling about the Convention, so I'm gonna wrap it up here in this post with as many pictures as I can scrounge up and a few anecdotes. Enjoy: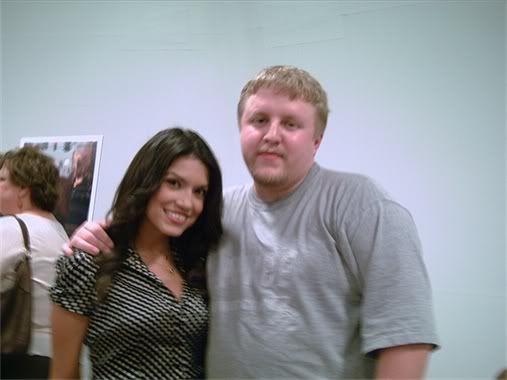 Here's another one of Amanda Avila (
Reality Remix
and
American Idol
season 4) and me. And yes, by the time this picture was taken, I was tired. Amanda was super sweet and drop-dead gorgeous. I had always thought she was tall, though. I'm about 6'1, so she's just about average height.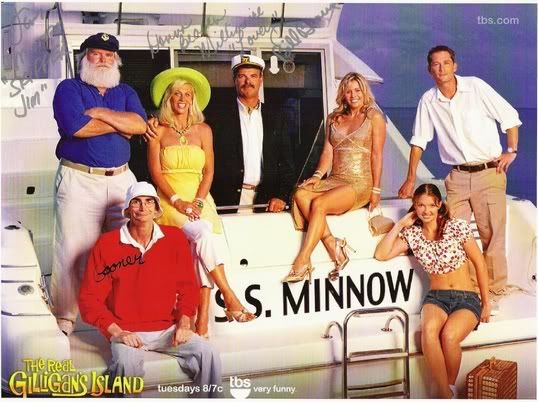 Jim "Skipper" Murray, Mark "Gooner" Grosbeck, and Donna and Bill Beaven (
The Real Gilligan's Island
season 1) all autographed this for me. Out of all the reality stars there, I found this group to be the most real, especially Gooner and Jim. I stood and talked with Jim for a while about the convention and his experiences, but he was more interested in hearing about me. Gooner was great, especially at the after party, and he's as goofy as he looks, but smart as a whip. I bought a few caricatures from him to contribute to his daughter's college fund. Jim was also raising money for the American Diabetes Association. (Those of you who don't know already, I'm diabetic.)
Wanda Shirk (
Survivor: Palau
) was one of the rays of sunshine there. She was very engaging and personable. No matter what's going on, her answer when someone asks her how she is doing is always "fabulous." I love her attitude, and you can't help but feel a little more chipper when you're around her.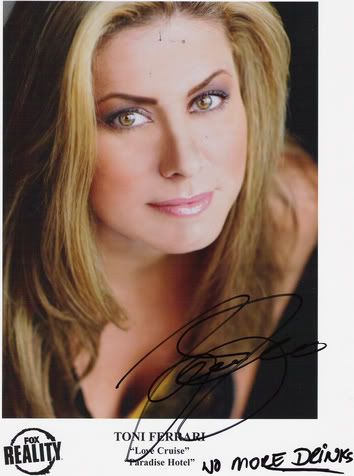 Visiting with Toni Ferrari (
Love Cruise
,
Paradise Hotel
,
Kill Reality
) was definitely one of the high points of the entire experience. She's vivacious, energetic, and she wants you to be too. Toni gave me free food from the Fox Reality stash, so she gets mad props from me. She also overheard me singing to Amanda Avila, and she made sure to pull me to the side and tell me how good she thought it was. I'm probably in love right now. (She's hot!) Also, she's the sister of Nikki McKibbin (
American Idol
season 1.) She and I, along with Matthew Kamont (
Biggest Loser
) and a few others were treated to an impromptu concert on the patio by Gregory DeLang (
Nashville Star
).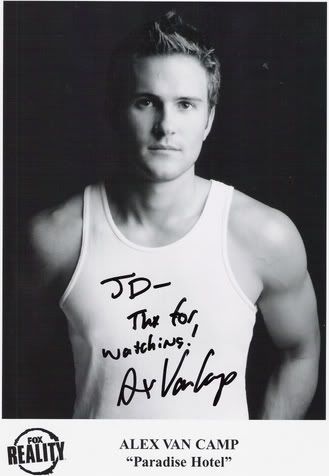 Alex Van Camp (
Paradise Hotel
) is possibly the most laid back reality star I met the whole day.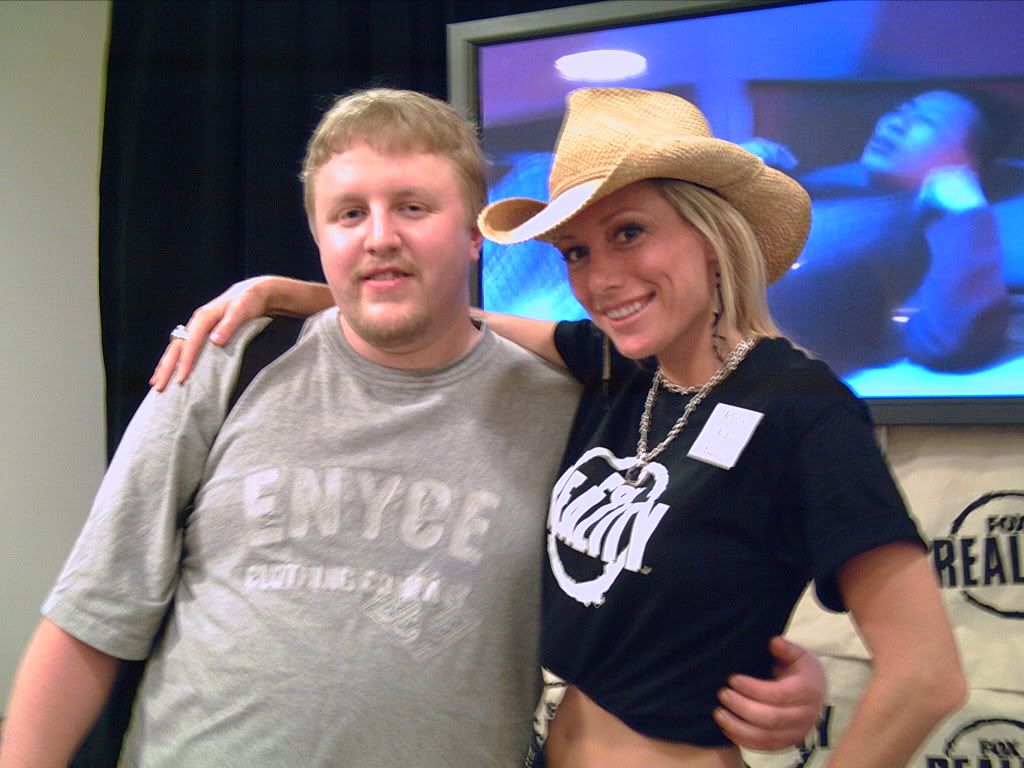 Melissa Jo "Mojo" Hunter (
Joe Millionaire
) was super-cute. She and I have a friend in common, and I'm beginning to think I like ALL Indianapolis girls!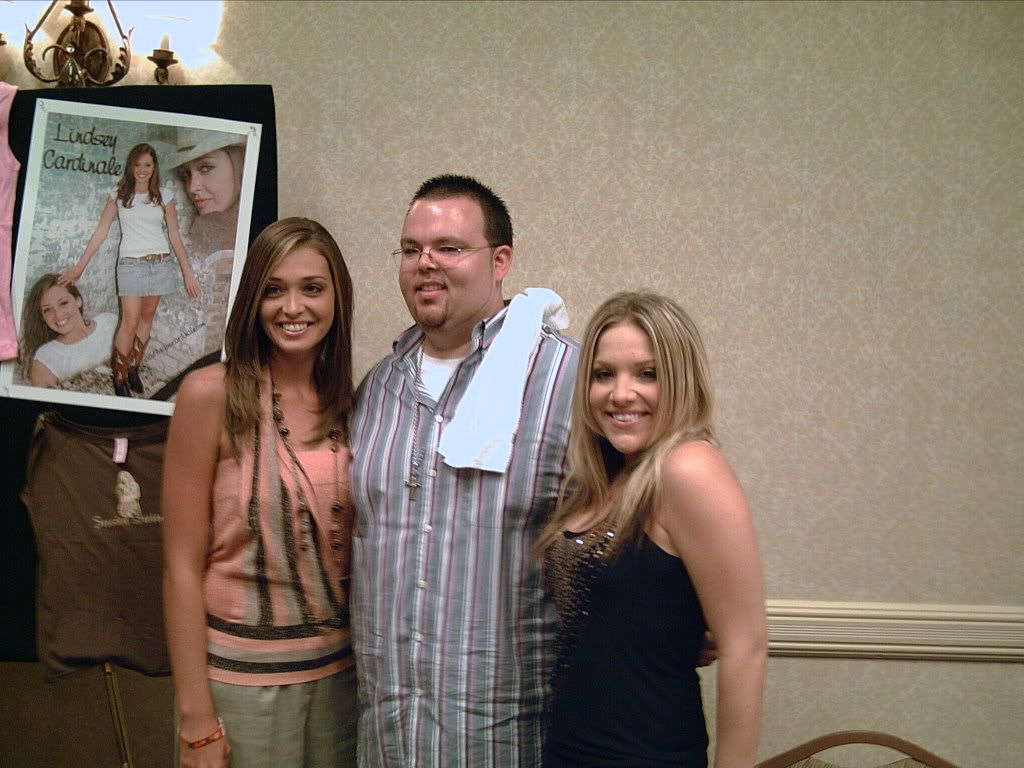 From the now infamous
American Idol
panel discussion. I love it that Jessica is totally ignoring the other camera and hamming it up for mine!
Susan Vaughn of
The Amazing Race 7
was one of the more interesting people I talked to. Ever the activist, Susan took the opportunity to raise funds for none other than
Musical Ramblings
' official charity, the
Juvenile Diabetes Research Foundation
. I have a copy of this photo that is autographed, but I haven't yet scanned it.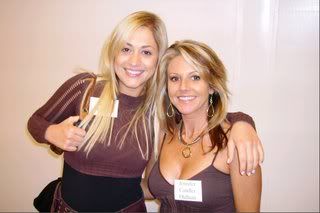 Jehan Huleisy (
The Bachelor
) was one of the most beautiful and classy women there. There's something to be said about a woman who can make a long, completely modest dress look absolutely ravishing. More is definitely more, in her case. She was absolutely stunning. Jennifer Candler Oldham (
Fear Factor
) was a bit more/too skimpy, but cute and friendly nonetheless. Photo courtesy of Jennifer, by the way.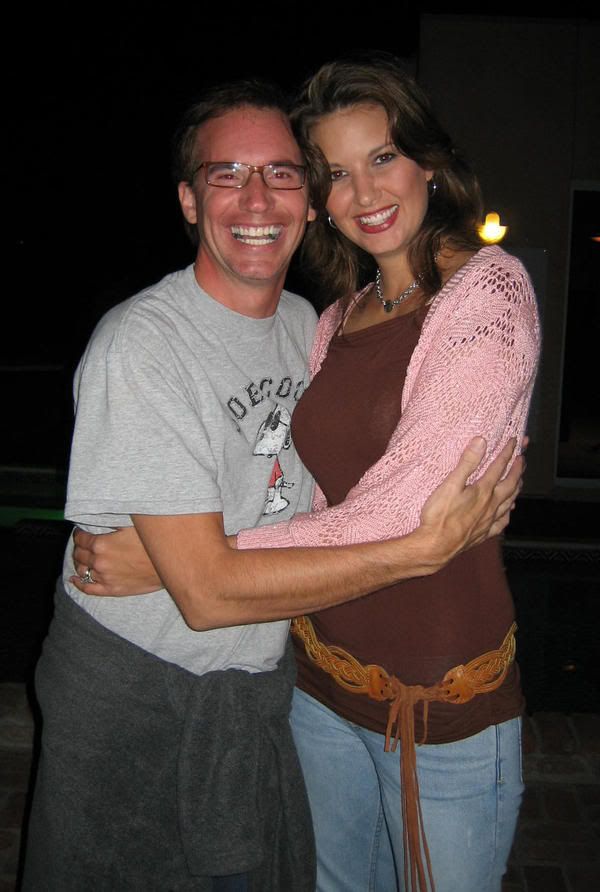 Dennis Luciani (
Average Joe
) was one of my absolute favorite people to talk to. He's goofy, he's funny, and he's completely likable. National Lampoon's most famous accountant spent time with me talking about his role in the next National Lampoon movie and reality TV in general. I asked him to sign an autograph, and he was genuinely surprised. "But I'm not in a movie yet!" he said. Later on at the event, we argued over who would win Lindsey Cardinale's heart, but eventually settled for fist pounds rather than fisticuffs. He's an awesome guy.
So, as you can see, it was a full day. And now...you know...the REST of the story.
But if you're still not satisfied, you can still catch highlights of the Convention on Fox Reality Channel's
Reality Remix
at 11:00 AM and 10:00 PM Eastern today or tomorrow at 2:00 AM, 2:00 PM, and 11:00 PM Eastern. If your cable provider doesn't carry the channel, you can view it anytime during the weekend at
Reality Remix's video site
.
(Extra thanks to Reality TV Magazine for their multiple mentions of me and links to my blog!)