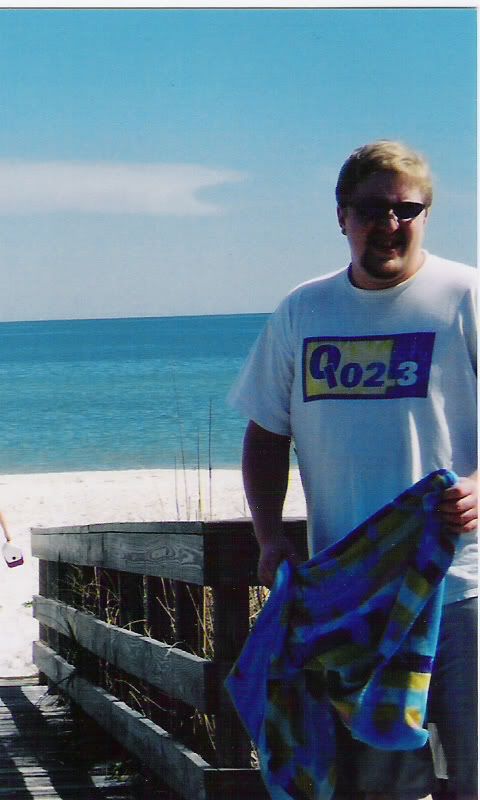 MUSICAL RAMBLINGS 100TH POST!
(with a photo of me on the beach in Florida for no particular reason)
It's hard to believe it, but this is my 100th post to
Musical Ramblings
. It's been a fun ride, and I hope to post hundreds more. It's been so much fun interacting with all of you, and I'll mention some of you (if only to boost your Technorati ratings!)
I can always count on
Michael
to come up with something interesting I haven't seen before (and probably shouldn't see again!). I've enjoyed sharing musical insights, including an almost psychotic obsession with the Nettwerk label with
Mack
over at BMA.
Curt
has always been good for a political debate.
Kristin
, what would I do without your insane adventures that make me laugh, punctuated by photos of the adorable Eva Jun?
Hannah
, you may be young, but you're wise beyond your years (or is that your ears? Heehee!)
Mike
, we may disagree on some pretty big issues, and you may be nuts for endorsing Pickler, but we're still having a blast with the A.I. thing this year, eh?
Kat
, keep on filling that not-so-empty blog, k?
Julie
, you've inspired me throughout the years with your skill, and you continue to do so.
Dancewriter
, I want to know more about the India trip, so keep posting!
Texas Biscuit
, don't ever let go of those Wonder Woman underoos.
I'd like to thank all of you guys out there who read here regularly and don't post. I know there are lots of you, and I appreciate each and every one of you.
Musical Ramblings
gets about 1000 to 1500 visitors per week, and all this goes out to you guys with every ounce of appreciation that I have.
To the musicians who have spoken with me, emailed me, and given me feedback, I tip my hat to you, and this blog is in your debt. I'd like to especially thank
Ashley Melnick
for her kind words recently. Also, big shout outs to
Brooke Barrettsmith and her band Goodbye
,
Everlife
,
Hastang
,
Jessica Sierra
,
Line of Fire
,
T-Bone
,
Tabitha Hope
, and
Roxie Mae
.
A special thanks at this time to the American Idols from this season who are out there, in particular
Katrina Yaukey
,
Seth Strickland
,
Rhonetta Johnson
, Justin Sticht, Kevin Mitchell,
April Walsh
,
Brooke Barrettsmith
, and Gedeon McKinney who have made this blog a lot of fun to write. Talking to y'all has been a trip, and I'm still proudly a fan of all of you, even if you looked goofy on screen.